Last Ayrex review update: 1st September 2020


In-depth Review of Ayrex for India: What is Ayrex?
Ayrex is a very fast binary options platform, where you can trade over 70 instruments on desktop and mobile apps. They offer good payouts of up to 85% with a minimum deposit of $25.
Trading itself is not for the faint of heart, putting an inefficient broker in the mix is like trying to dig oneself out of quick-sand. Irrespective of the great tools you have, a crooked broker, which of course lacks integrity will consistently syphon money off you. So before you take a plunge into the world of binary options trading in India, I'll like to continue with my series of reviews. This time, the broker we'll be taking a look at is Advanced Binary Technologies Ltd branded as "Ayrex".
Ayrex in India
They one of the few global brokers offering their platform in Hindi.

Trading platforms
Ayrex binary options present both web and mobile app binary options trading platform. The platform is extremely fast with an average execution time of about 0.028 seconds. Upon completing the registration process by confirmation via your provided e-mail address, you are offered a practice account to test the different features of Ayrex options platform. Similar to most options platforms we've covered in this series, the trade operation buttons are displayed as Call and Put. This depends on the predicted direction for the asset of your choice.
The Ayrex platform as presented below shows the default asset EURUSD as an area chart. Extreme right panels show information that has to do with deposits, and trade execution parameters, such as Trade amount, expiration time, time to buy options, Call and Put buttons.
On the extreme left panel just below the Ayrex logo, are tabs such as history, news, signals, languages and support. To the right of the extreme left panel are zoom buttons, area charts, Japanese candlestick, and Indicators tab.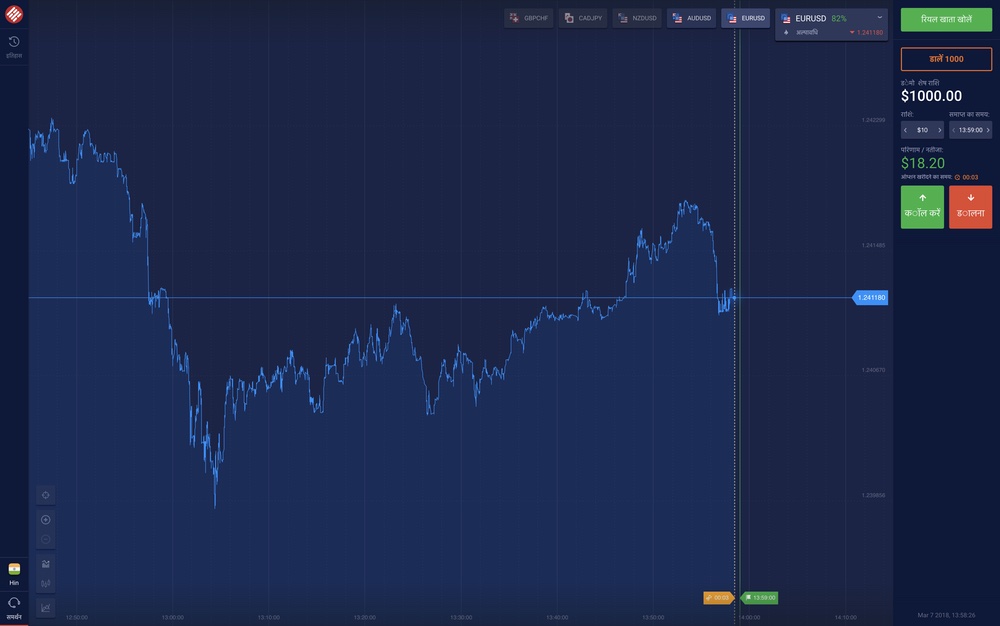 Languages: Ayrex in Hindi and English
On the Ayrex platforms, 9 different language choices are offered, Hindi included. You can, therefore, select from the language tab, and assign your preferred language which is symbolized by the country 's flag.
Time-frames and Chart types
Compared to some other broker that I reviewed in the past, the number of time frames on their platform is limited to seven as shown below. This may be a plus to you if your expiration time does not exceed this range.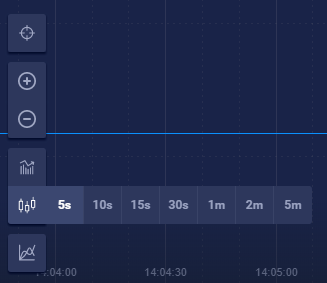 Indicators and Drawing Tools
I observed only a single indicator on their platform which is the Bollinger bands indicator. This may be because I had not yet made a deposit to my account, which should open up more functionality.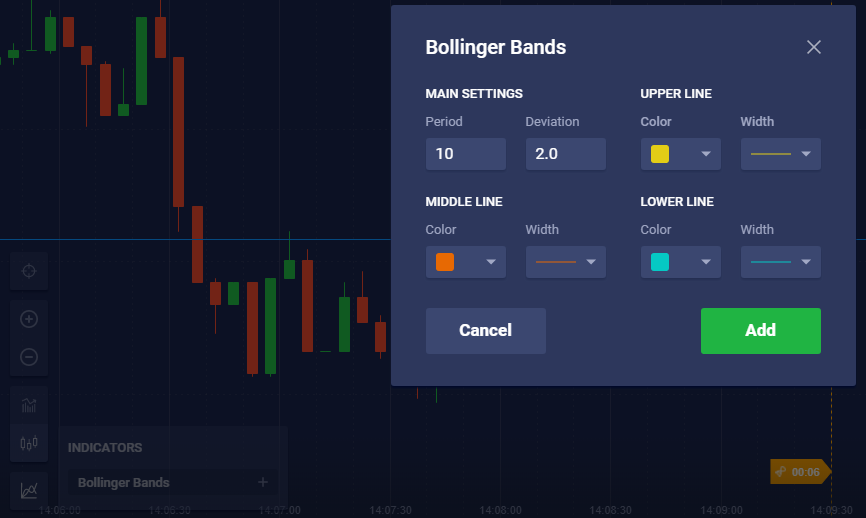 Instruments offered for trading:
Ayrex has made over seventy (70) trading instruments available for trading on their platform. As at the time of writing this review, the assets include Spot FX (18 of 18), Equity Indices (7of 9), Spot Commodities (7 of 7), Stocks (5 of 64), and Crypto (1 of 1).
Types of Accounts
At Ayrex, traders have the choice of choosing between a Demo, Islamic, and Real Account.
Demo Account
I'll recommend that you start off with the Ayrex demo account of $1,000. It is completely free, and comes with real quotes, offering a similar experience as would a live account. In fact, after trying out a couple of trades on the platform, you should get a pop message similar to the one below thank you for trying out the Ayrex platform. Further questions can be asked via a form field.
Islamic Account
First of its kind in the binary options space, Ayrex offers Islamic accounts using their custom-developed Halal platforms. This allows Muslim faithful to benefit from no-interest rates, hidden fees etc. For more information on this, you can contact the Ayrex support which is available 24/5.
Real Account
Subscribing to the real account grants you access to all the features locked into the Ayrex platform, which also includes all forms of promotions and bonuses.
Commissions and spreads
Ayrex does not charge commission or spreads on trades carried out on their platform. So if your options trade is in the money, you get to keep all the allocated payout for that asset.
Minimum deposit and requirements
For a smooth and seamless trading experience, Ayrex requires all its clients to pass through a KYC (Know your customer) process. This involves submitting some form of recognized identification in the form of an international passport, or driver's license, and proof of address. After the KYC process, you can make a minimum deposit of $25, a minimum trade of $5 and a maximum trade of $5000.
Payout/Leverage
The payout on each asset varies with Ayrex binary options broker, offering the highest payout of 90%. Leverage is offered in the form of bonuses and promotions.
Deposit and withdrawal options
Like me, I know you will be more interested in a brokers' withdrawal process than its deposit. Not to say that ease of deposit is not important, but if I'm to trade, I'll want to do so as a business. So you are only in business when the business can take care of itself. Ayrex makes this possible through a 24/7 auto-withdrawal process, with zero commission on withdrawals. The withdrawal process can be as fast as seconds and protected via a 2-step authentication. You can hear what other clients have to say by following this link.
Deposit and withdrawal can be carried out through available payment systems such as Visa, Mastercard, Fasapay, Neteller, Skrill, and UnionPay etc. Please note that in a case where Visa or Mastercard is not available in your country, please make use of other alternatives. In some cases Ayrex even offers localized forms of deposits, for example, customers from India can deposit via Fasapay, Union Pay, and credit cards.
Customer Support
Ayrex has one of the best customer support in the industry. You can find a chat tab at the bottom right corner of each page of their website, as well as on the bottom left panel of the trading platform. Their customer support is available 24 hours of 5 working days. They are always eager to attend to whatever issues you bring.  You can also contact support via [email protected].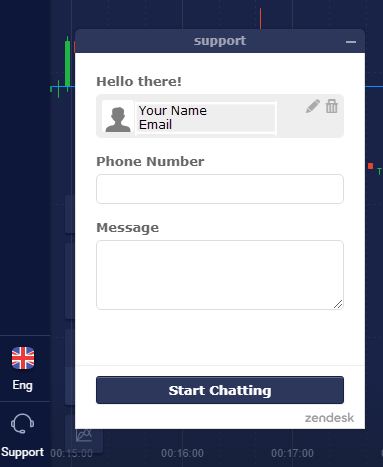 Ayrex Review – Summary
In my journey as a binary options trader based in India, I have subscribed to the services of so many brokers, and I must say Ayrex platform is one of the fastest I've utilized. The broker hosts contests that options traders can participate in to earn some extra income.
Ayrex has contributed a great deal to traders education over the years, considering that most traders come unprepared, uneducated into the trading space. For this reason, I will recommend Ayrex binary options broker for your trading education and trading success.
Finally, as I will always say; do endeavour to read through the company's privacy policy, return policy and AML policy, through which you can do your own due diligence in combination with this review. Have a successful trading experience!