Last Binomo review update: 28th August 2020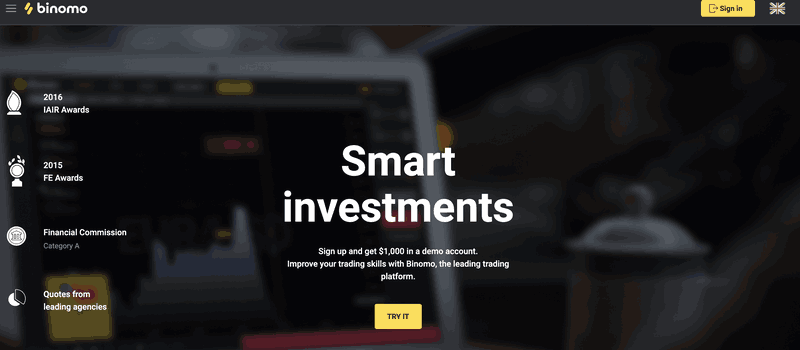 In-depth Review of Binomo for India
What is Binomo?
Binomo is a binary options trading platform that offers smart investment services from $10 to Indians and investors around the world and free training. They provide a free demo account of $1,000. You can trade from $1 on many instruments, and get up to 95% payout if your forecast is correct.
Today we are going to carry out an in-depth review of another broker that offers a wide range of trading instruments for binary options in India. The broker in question can be found on binomo.com, however, Binomo is simply the brand name of the company Tiburon Corporation Limited. A company incorporated under the laws of the Republic of Seychelles (registration number 187026), with their head office in Victoria (Seychelles ).
Tiburon Corporation Limited, which is the actual company in charge of the supply of service, also has a managing company in charge of operations. The operating company is Stagord Resources Ltd, and it is registered in the Republic of Cyprus with registration number HE 338508. Their address is based in Nicosia (Cyprus ).
I hope that was not too much to take in? In a nutshell, what that meant is that the company is registered in 2 different locations, probably for the advantages each nation brings, for both operational and general service delivery. Keeping things simple we'll refer to the company by her brand name "Binomo".
Video Review
Trading platforms

The Binomo trading platform is offered in English and Hindi. They provide us as web-based, android mobile, and ios mobile apps, which can be downloaded from the app stores. Experience with the trading platform was an amazing yet simple user interface, easy to navigate, yet presenting an awesome user experience. So, are you new to options trading and you're kind of dazzled by the presentation of some trading platforms out there? Well, the Binomo trading platform is built with you in mind. You can start trading by simply selecting an asset you are interested in; enter the amount you will like to invest on that particular asset; set an expiration period for the transaction, and determine the direction of movement for your chosen asset.
Haven come this far, you may conclude by clicking on either one of the two up (green) or down (red) buttons that are inclined to your anticipated forecast. The results of your trades are displayed in the transactions window, with profits or loss added or deducted from your account balance as the case may be.
I will recommend newbies and experienced traders alike to trade on their demo account which is absolutely free. It's an easy and cost-effective way to get familiarize with the platform.
Again, it is strongly recommended that Indian clients of Binomo binary options trading read through the client agreement. There you will find useful information regarding trading that should not be overlooked. The company strongly frown against multiple account registration, and have strict penalties in place for anyone found wanting.
For a smooth live trading experience, it is important that traders use a very strong internet connection as the company cannot guarantee that the quotes on the trading platform cannot serve as a reliable source of quoting information in the case of bad internet connection. This can be found under clause 4.1 and 4.2 "Quotes" of the client agreement.
The chart below presents the general outlook of the Binomo trading platform.
Indicators and Drawing Tools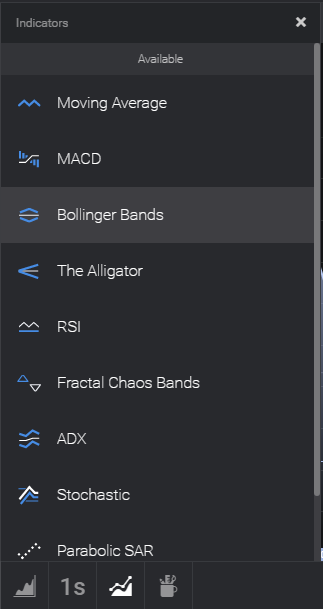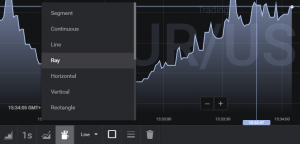 The indicator and drawing tools are nicely placed at the bottom left corner of the trading platform as shown in the chart below. A good number of technical indicators are at the disposal of the trader to estimate the market direction. Among these are the Moving average, MACD, Bollinger bands, Alligator and RSI etc. These indicators can be easily attached to any asset of your choice loaded on the chart.
The drawing tools can be found on the same panel as an icon with a cup and drawing
tools in it. This is also shown in the image below. Simply click on the cup icon to display and use drawing tools like segment, continuous, Line, Ray and Horizontal etc. if you are into establishing support and resistant lines on your chart.
Time-frames and Chart types
The chart can be toggled between different chart types, depending on how you want your chart to be presented. You have the choice of mountain, candlesticks, line, or bar charts on different timeframes ranging from 1 second to 5-minute charts.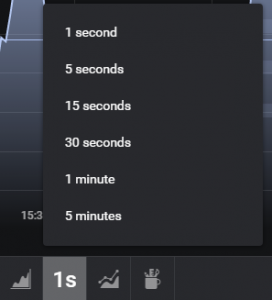 Instruments offered for trading
At Binomo, you can trade binary options on stock indices, shares, commodities, different currency pairs, and crypto index. Click on the plus symbol beside the default asset open to view other available assets, as shown in the chart below.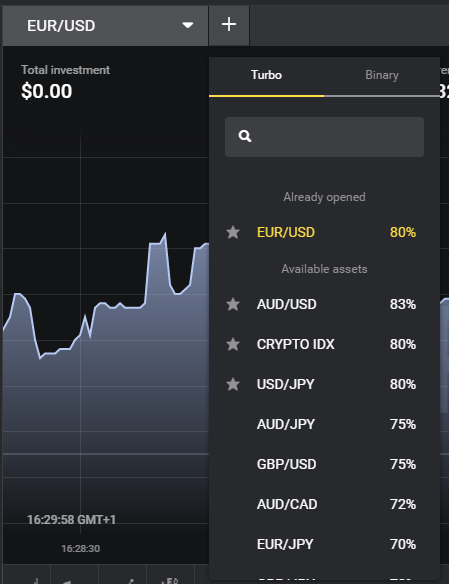 Types of Accounts
The team at Binomo created a low barrier to entry in the industry of binary options trading through different account types. These include demo, standard, gold, and VIP accounts. Let's take a closer look at what these accounts have to offer.
Demo Account
Their Free $1000 demo account is a perfect tool for those who new to binary options trading. It's an account to get your feet wet as well as for training and practising a trading strategy. This is the gateway to Binomo's full functionality. Just in case you run out of funds on your demo account, by a simple click of the refresh button beside your account balance display.
However, I must warn that have read their client agreement, the demo servers are mostly different from the real account servers, and it does not totally take the place of practising with real money, where your emotions are at play.
This is partly why at Binomo, they have a second account called the "Standard account".
Standard Account
This is in my opinion, an account suitable for all traders, whether you are a beginner or an experienced trader. My reason is that you can start trading with as little as $10. Subscribing to a standard account grant you access to the most liquid assets, and experience the real potentials of the Binomo trading platform, and most importantly making a profit. With a standard account, you can start trading with as little as $1 per trade; you are eligible to participate in trading competitions; withdraw profits within 3 working days, and enjoy a wide range of bonuses.
Gold Account
Opening a gold account opens more opportunities for traders to leverage off, thereby increasing profit potentials. What I find attractive about the gold account is the 5% weekly cashback.
VIP Account
Large fund managers are not left out. For traders that require exclusivity and want insurance on their capital, Binomo presents investment insurance tools for your use. Also included are analytical support and of course, being able to withdraw your profits within 4hours max.
Commissions & Fees
Trading binary options on the Binomo platform does not attract any commission or spreads on transactions. However, according to clause 2.14 of the client agreement the company will charge a 10% withdrawal fee in the case where a client decides to withdraw all or part of his/her fund without making double his/her initial deposit.
Minimum deposit and requirements
The minimum allowable deposit for carrying out trades is $10 being offered on the standard account, however, you can enter a trade with as low as $1. Requirements for deposit are simply the KYC (Know your customer) policy which the company has the right to demand from her clients. More information on this can be found in "clause 1.5 "of the client article. Generally speaking, documents required are a form of identification and utility bills.
Payout/Leverage
At Binomo you get leverage in the form of bonuses. The company is giving out 10 options in the amount of $150. This is an offer for all new traders from India on the Binomo service. Different account types have bonuses allocated to them. Go to the link to account types to find out more about such bonuses. Follow this link to get further information regarding bonuses and offers.
The maximum Payout offered is 95% however levels vary depending on the volatility of asset and account type. Again, visit the account section to for more info on these.
Promotions & Bonuses
Binomo Bonus
Binomo is giving away deposit bonuses. Please check their website for promotions.
Deposit and withdrawal options
Payment and withdrawal can be made using Visa, Mastercard, and Maestro. Other payment alternatives are Neteller, Qiwi wallet, and a range of cryptocurrencies.
I recommend Neteller to Indian traders as a deposit option.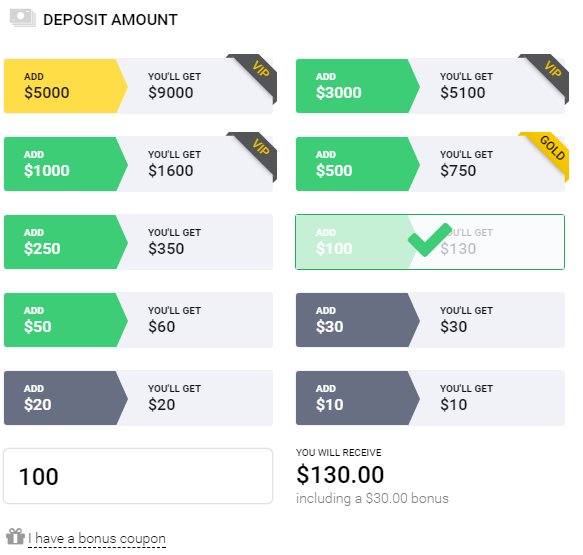 Customer Support
Binomo has efficient online customer support via phone, live chat and email that is available during the week. You can also ask questions and have a ticket created for your inquiry on this link
Binomo Review – Summary
The Binomo binary options trading service platform is a great company to consider when looking for an options trading broker for India. They offer a $10 low barrier to entry in the binary options trading industry. Start with a $1000 demo account and gradually upgrade to a standard account for newbies, but I will recommend a gold account for the more seasoned trader. Reading the customer agreement cannot be overemphasized, this is applicable to all trading service providers.
Have a successful experience, trading with Binomo options broker.