Last review update: 28th August 2020
In-depth Review of Binary.com for India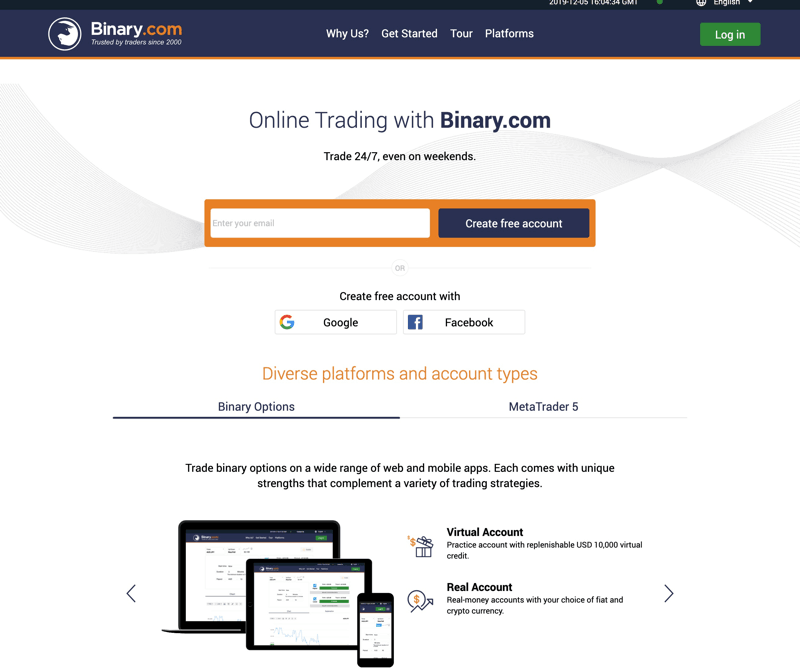 Overview: What is Binary.com?
Binary.com is a Malta-based online trading platform, serving with binary options and forex around global financial trading. Established in 1999, the site is one of the settled and trusted forex brokers for India offering such services with ease. This boasts a large customer base and follows an advanced trade index to make indices trading easier. With comprehensive coverage on the markets and reasonable pricing, the platform safeguards depositors' funds without using it elsewhere.
If you are planning to trade with the site, here are some of the policies and principles followed by the site.
Integrity: Binary.com ensures transparency between the platform and a trader. It includes ease of trade and resolves all the account-related issues. This is the main reason for having over 1 million account holders with the site.
Comprehensive Unit: The site backs up with a team comprising of over 200 employees working with different concepts in the trading industry.

 
Debt-Free: The site has a clear bank sheet and no scams over their reputation.
Customer First: Binary.com progresses by putting customers ahead of all. This helps in giving the best trade experience to all.
How to Trade on Binary.com? Platforms to Look Forward
Binary.com has a vast number of options you can think while in case of a trading agency. It offers exciting trading platforms, which are further categorized into two different types.
Basic Platform
Advanced Platform
Under each of these segments, here are some sub-sections available for trading.
Basic Platform
Deriv: Presenting the latest development by the agency is Deriv, an advanced platform comprising powerful analytics for the ease of trading. Currently available in beta version, the platform is an exclusive presentation from Binary.com, drawing precise analytics. Using the platform, you can check and access all the global markets, change currency forms, and trade according to the desired parameters. Moreover, this comes with built-in reports over the positions of a specific market from a selected duration of time. Lastly, if you are looking for statistics, search no further with the platform giving different comparison tools for easy trading.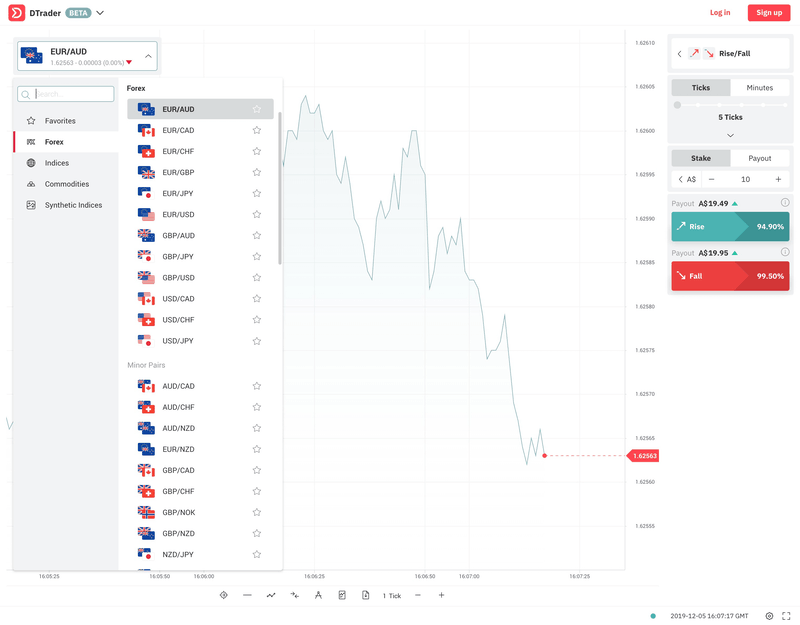 SmartTrader: This is one of the world's largest Forex, Stocks, and Cryptocurrency hosting trade platforms. Using the comprehensive analytics division, you can use the cloud-based software and trade freely across all devices. SmartTrader offers Live Market Trading options, where you can trade directly from the list in different markets and establishes a better connection. Different chart data comprising stats-driven markets are at your fingertips with the software. Finally, with Smart Analytics and personalization options, customize your profile with 6 indicators per chart, and trade freely.
Advanced Platform
MetaTrader 5: Binary.com offers advanced users to play with MetaTrader5 software, offering a plethora of analytics and experimentation in trading. MetaTrader5 comes with advanced automated trading systems and copy trading, enabling it to feature Forex, Stocks, and Future trades. Available for web and smartphone users, the endless possibilities of services like Virtual Hosting, Freelance database of strategy developers, and many more, MetaTrader5 has killer applications. In the end, MetaTrader5 has opened a wider market backing plenty of veteran traders/ brokers, glued up with the platform.
Binary WebTrader Platform: Binary.com's advanced platform is WebTrader. This offers customizable reach-out to the customers with an interactive and catchy interface. Users can monitor data, trading time, index, and other valuable charts, before customizing as per the will of the users. The sturdiness of the platform ensures you as a user in preserving/ trading the funds safely. You can choose among a list of 13 different languages available and alter the interface and analytics according to your interests.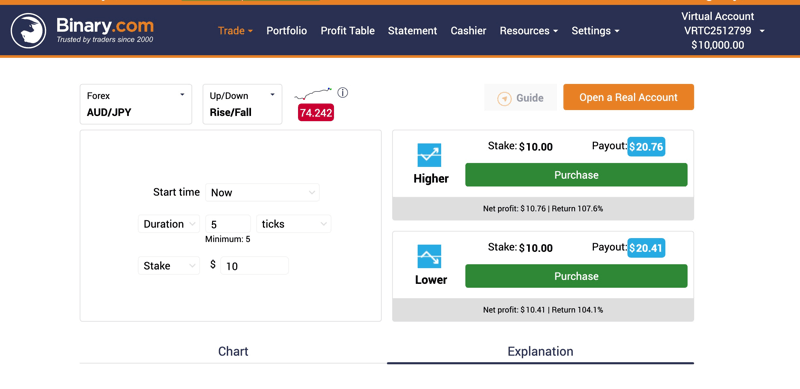 Binary Bot: Perhaps one of the highlights of the trading platform is the Binary Bot. This is tailor-made for the people interested in automating specific sets of strategies with Binary Options. This top-level programming tool is different from all and allows you as a user to build your trading apps with a simple yet advanced jigsaw puzzle-like function. You can drag and drop these puzzles' function accordingly. Using this, you can customize ample trading bots with advanced algorithms to help trading while you feel free. In the end, the Binary Bot platform has over 80% conversion rates for trade.
Binary.com Mobile Version of Trade
In the world of smartphones and tablets, it is wise to announce the Tick Trade App from Binary.com. This is an exclusive mobile trading app available in the cross-platforms. The app has all the basic in-built functions to contemplate. Use and work with an interactive and responsive interface. It is easy to choose a market like Forex currency pairs and other critical Volatility indices assets. Plug the speed of trading, ranging from 5 to a maximum of 10 ticks. Finally, feel free to indicate the amount of payout, considering the risk control for each trade accordingly.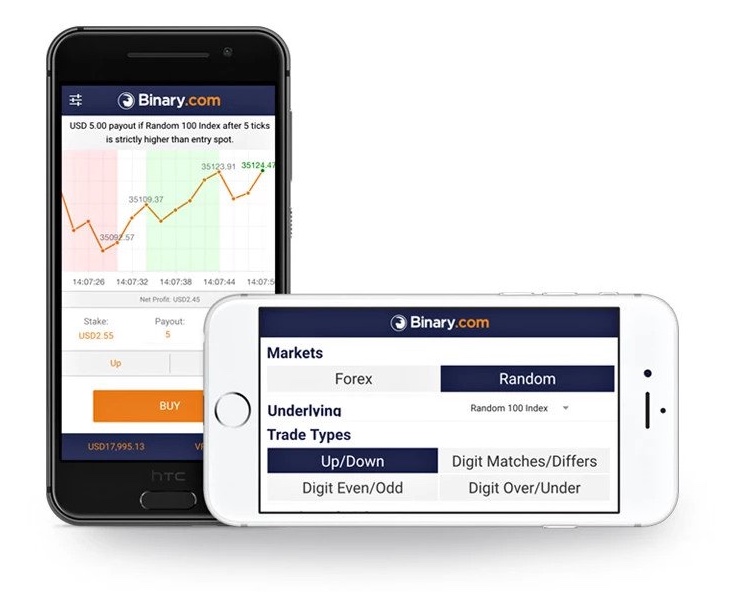 Account Variants
Binary.com comes up to cater all the traders comprehensively. Right from a novice trader to the seasoned campaigners, everyone will have their share of brownie points trading with the site. It primarily requires you as a trader, sign up with either of these 2 accounts to proceed. They include:



Binary Options

Virtual Account: Using this account, the first time in trading can get exposure and understanding of the practice, without actually funding for real. Binary.com allows with USD 10,000 as pre-loaded virtual cash. Using these, a beginner can trade, check the trading platforms, and prepare strategies without losing anything. Even the advanced traders can use these to check and refer functions and concepts.
Real Account: Once you are aware of the things and trading concepts, you can register with this account. Using them, you can start with a minimum deposit of a meager 5 USD. This is low, considering most of the others charge a whopping 250 USD to open a live trading account. The process of conversion to such accounts is easy, and with a couple of clicks, your account will change to a regular account from the virtual ones.
Advanced Accounts

MT5 Demo: If you are new to the world of MetaTrader variants, the demo account under this segment will help you clear the air. MT5 Demo is much like a regular binary virtual account but has a difference in coming up with the advanced components and analytics. Binary.com provides such account holders to have a virtual credit worth 10,000 credits.
MT5 Synthetic Indices: In this form of account, it allows you to trade on CFD's over Synthetic Indices. This refers to the proprietary synthetic assets working over the real market-based volatility and available for extensive trading round the clock.
MT5 Financial: This is the standard MT5 account, dealing with regular Forex and CFD-based transactions. The account can be migrated from the Virtual account, once the users are well accustomed to the rules and regulations of such accounts.
Commissions and Spreads
Binary.com charges spread with different payment currencies. A spread is a difference between the asking and bid. Aside from this, the site does not charge any fees or commissions separately from the users.
How to deposit or Withdrawal? Banking Means
Binary.com offers an extensive list of deposit and withdrawal methods and has a meager banking charge for depositing. While in case of withdrawal, it depends on which banking means to opt. On a general understanding, for depositing, the trade fees can be as less as 5 USD. 
The minimum amount for withdrawal will vary according to the price over the latest exchange rates. Moreover, the processing time taken by each of the payment gateways may be more considering the device/ bank processing time. Here is a list of banking methods available, which promises the ease of trade without hassle.
Card Vendors

MasterCard, Maestro, and Visa: The minimum and maximum deposit/ withdrawal range is 10 to 10000 USD/GBP/EUR/AUD. Added to that, all these card vendors accept immediate payment deposit, while taking 1 working day to process a withdrawal. However, in the case of MasterCard and Maestro withdrawals, these are available only for UK users.
E-Wallets: All these payment methods have 1 working day withdrawal policy and instant deposit policy.

Fasapay, Perfect Money, Neteller, WebMoney, Jeton, i-Wallet, Sticpay are among the ones, whose withdrawal and deposit range accepted is from 5 to a maximum of 10,000 USD.
Other payment methods, such as Skrill, QIWI, Paysafecard, and Airtm, have a variable range of acceptance.
Cryptocurrencies: Since the crypto-based transactions are dealt with, the site boasts some of the top and popular versions of the same. All these methods work by accepting 3 blockchain confirmations and 1 day time for withdrawal. These include:
Bitcoins (BTC), Ethereum (ETH), Litecoin (LTC), Tether (UST)

Bank Wire/ Money Transfer: This consists of the likes of PayTrust, Internet Bank Transfer, and regular Bank Transfer. Apart from PayTrust, all the other methods consume 1 working day for both withdrawal and deposit.

 
Leverage Count
Binary.com gives out reasonable leverage for a level up to 1:1000 for all clients and 1:30 for EU clients exclusively. It varies according to the market and growth. Although leverage has its set of advantages, one wrong move can trade in a hefty loss.
Customer Care
This binary platform delivers extensively with its friendly customer care cell. If you are facing any problems concerning trading, app-based queries, or with any service related queries, feel free to contact the customer care cell. Users require logging in to their official registered account and choose the contact us option located at the bottom of the main home page. The site backs with a live chat feature, coming up on the main page without having to click the contact form.
Using the live chat option, minor queries and solutions can be availed. Apart from this, other options include a phone number, having a different number for the UK, and one for the rest of the world. Email is one more option, working productively for the traders wishing to email down advanced issues with the account and trading related queries. Finally, the site also accepts real-life mail and has the address of the customer care cell.
Is Binary.com safe and regulated? Regulation and Licensing
For all the accounts registered under Binary.com is subject to be licensed and regulated in the likes of Ireland, the Isle of Man, Malta, and the United Kingdom. Binary Group Ltd., operating the website, owns the company. The site offers a different module of platforms of operation and allows Binary IOM Ltd. and Binary Investment (Europe) Ltd. for the gamblers from the UK and Europe. Alternatively, the gamblers from other European countries can trade via an additional Binary (Europe) Limited, a body exclusive for non-UK and Isles-based countries. The rest of the other countries can trade via Binary (C.R) S.A.
Binary Limited is a holding company for all these subsidiaries enlisted below the list.
Binary Investments Europe Ltd.: The body is located at Malta, licensed and regulated as a Category 3 Investment services under the regulation of the Malta Financial Services Authority. European Union residents, planning to trade the products require having the accounts with Binary Investments Europe for trading.
Binary SVG Ltd.: This is the regulation for clients across the rest of the world. This is based in St. Vincent and the Grenadines.
Binary (V) Ltd.: This is the subsidiary body licensed and regulated by the License and Regulation body-based under Vanuatu Financial Services Commission. This is applicable for the clients based around the globe, for trading with FX, CFD with MetaTrader5 account.
Binary (BVI) Ltd.: This is a subsidiary based in the British Virgin Islands and allows clients from the rest of the world except the USA, CANADA, and Hong Kong.
Binary FX: This is the last of the subsidiaries based in Labuan, Malaysia.
Binary.com Review: Final Thoughts
Binary.com is an old and established face in the world of stock indices and CFD's. The agency's popularity has soared over the last 2 decades, backed up with the advanced technology has transformed the site's performance. The site believes in comprehensive trading practice and offers newcomers and experienced users, with an excellent chance to establish their trading dreams. One of the many plus points of this online trading platform is accepting as less as 5 USD as the minimum amount of trading. In all, with reasonable leverage and MetaTrader5 flourishing, Binary.com has gone for the kill.