Last Olymp Trade review update: April 2 2020

This a OlympTrade Review. Please note this is not the official Olymp Trade website.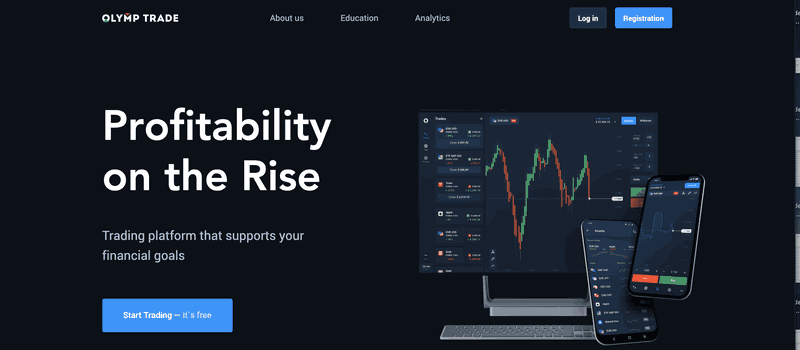 In-depth Review of Olymp Trade for India
Trading instruments such as "fixed time trades" have often been promoted as easier and less stressful way of coming into the trading industry. Though this may be true, most new Indian traders fail to realize that a new way of trading has its rules for attaining success. One pre-requisite that stays constant irrespective of your approach to trading is the need for a reliable broker for India.
Broker Details & Promotions
What is Olymp Trade ?
One investment platform that has proven its worth in the online trading market since 2014 is Olymp Trade, a brand name owned and managed by Inlustris Ltd The company is head quartered at the St.Vincent and the Grenadines with registration number 25161. Olymp Trade is one of the few financial companies out there offering extensive trader education, as well as providing an enabling trading environment for you to earn.
Trading platforms
OlympTrade: Fixed time trades
Before we navigate through the features of the Olymp Trade platform, let's do a quick recap for the sake of those who have no idea of how fixed time trading works. Fixed time trades is a type of trading that requires a fixed expiration time as well as a fixed amount of compensation should the asset expire in the anticipated direction. Even if the price close a single point above the set price at the expiration time, the trader still gets compensated with the fixed payout of that particular asset.
However, in the case of the trade closing in the opposite direction of your prediction at expiration time, the staked amount is lost.
OlympTrade
The Olymp trade platform through continuous improvements and development, and now allows any investor conveniently open long or short positions at the current price without limited duration on different type of assets such as shares, commodities, currencies and cryptocurrencies. Their online trading platform is built with simplicity, flexibility and ease of use in mind. Upon launching the platform, the first thing you'll see is the trading time-series chart as shown in the image below.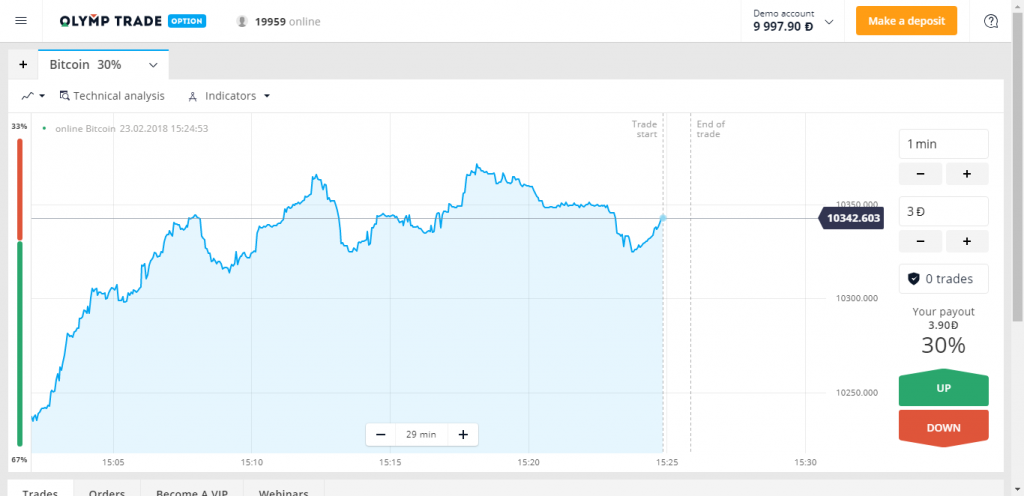 Notifications
Wondering where to get information related to support and more useful trading information? At the top right corner of the platform you will find the notification icon which can be easily recognized with a question mark in the middle. Click on the icon to get information on Support, Video gallery, Trading Strategies, and indicators. These are very useful information nicely hidden under the hood of this icon.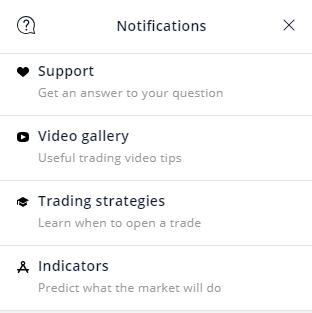 Time-frames and Chart types
The Olymp Trade platforms allows you to visualize your time series chart from different chart presentations. You can choose from area charts, Japanese candlesticks charts, and my personal favorite, the HeikenAshi Chart. You can choose your desired timeframes from 15seconds to monthly charts as display in the chart below.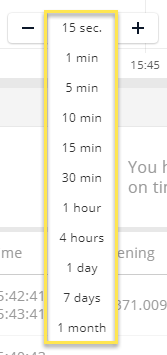 Indicators and Drawing Tools
Clicking on the indicator tab displays the wide range of indicators available to enhance a trader's judgment of a chosen asset direct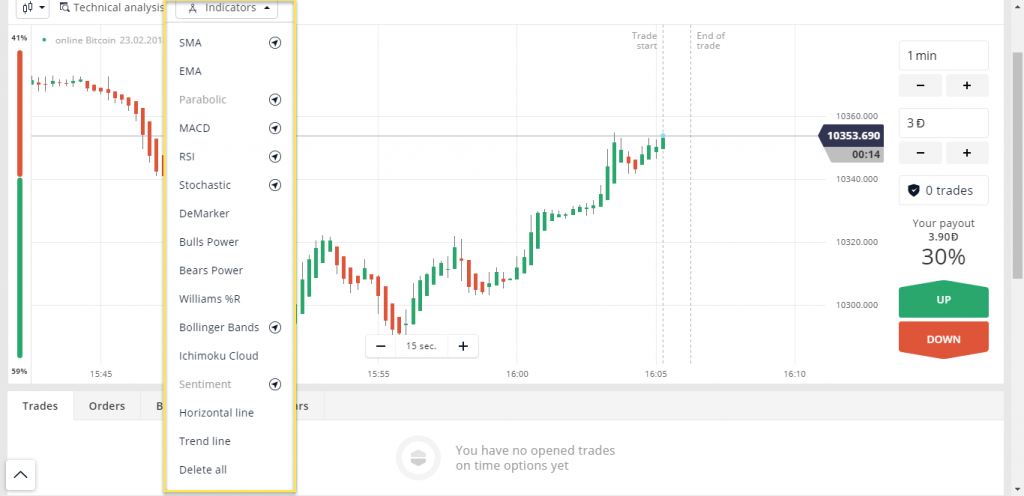 Lower tabs below the main chart display window presents the your currently opened trades, and history status of your trades as shown in the image below. If there are no currently opened trades you will get a message on the display that says "You have no opened trades on fixed time yet", or you see your currently opened trades.
No Opened Trades

Opened Trades

Technical Analysis
Trading analysis just got better with Olymp Trade. Click on the technical analysis tab beside the indicator tab to discover new technical analysis tools as shown in the image below. This is an entirely different platform that loads for traders to leverage off the technical analysis tools.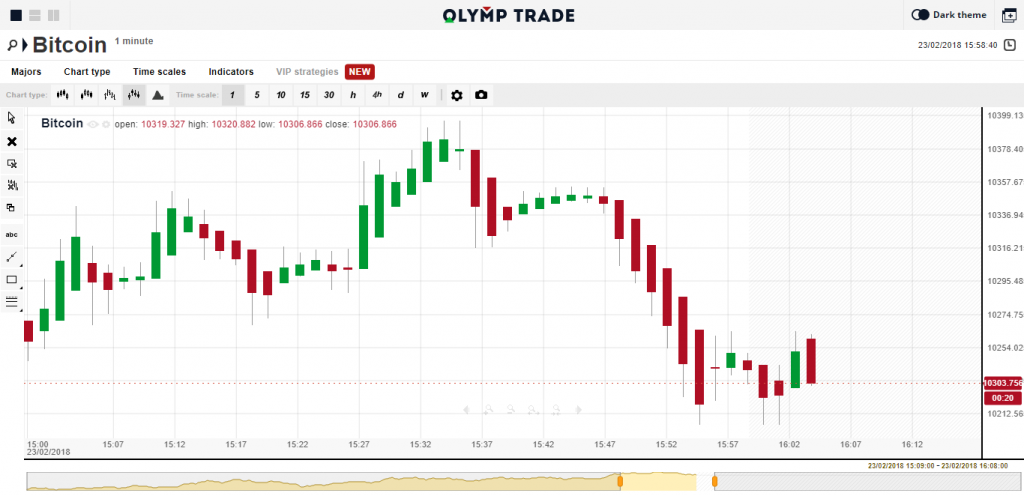 Instruments offered for trading
Assets offered on Olymp Trade platform can be accessed by clicking on the "+ tab" beside the currently open asset. This will open a display of asset categories which includes currencies, Exchange traded Stocks, Crypto assets, Indices, metals, and Commodities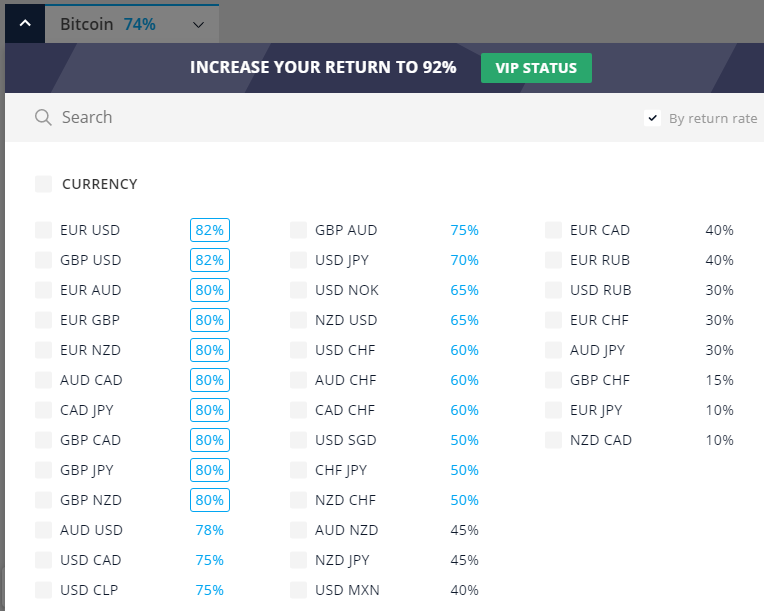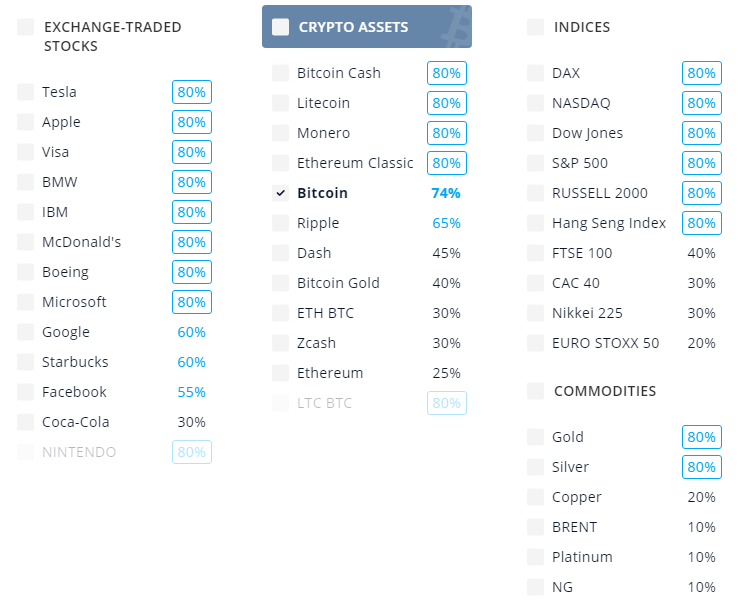 The percentages besides each asset is the varied percentage payout upon a successful directional prediction of an asset.
Types of Accounts
Olymp Trade offers subscribes demo account, Regular account, and a VIP account.
The free $10,000 demo account serves as a starting point for new and experienced Indian traders to test the different features on the Olymp Trade platform. This is an easy and no risk way to get started with Olymp Trade.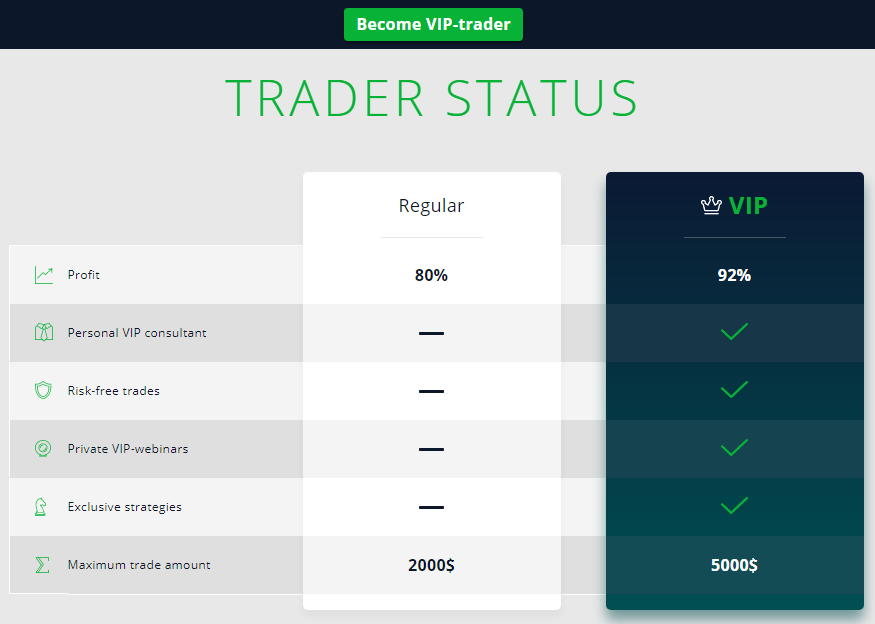 The above table illustrates the features available to regular and VIP account holders. It's clear the VIP status has more features for traders. I will still recommend a regular account for starters, allowing for gradual scaling up.
Spreads & Commissions
Olymp Trade do not charge spreads. They only have brokerage fees on online trading, making it easy for you to concentrate on your strategy.
Minimum deposit and requirements
The minimum deposit is just $10 with a $1 minimum trade.
You can trade with a maximum trade amount of $2000 and $5000 on Regular and VIP accounts respectively, both requiring you to pass through a KYC process. The KYC process involves a form of identification and proof of address. More information on this can be found under the KYC/AML policy.
Payout/Leverage
Payout on assets varies on Olymp Trade. From the assets tab you can easily visualize the different payout percentages for each asset class. Maximum payout also depends on the type of account you registered on. For regular accounts, maximum payout is 80%, while VIP account offers a maximum payout of 92%. VIP account holders have the benefit of enjoying leverage in the form of bonuses, risk-free trades, special offers and contest.
Deposit and withdrawal options
Personally, I'm more interested in how a platform handles withdrawals over deposits. I found out that the team at Olymp Trade have no withdrawal limit. Your withdrawal amount is unlimited, and the payment system fee at deposit is covered by Olymp Trade. The different payment methods they accept for both deposits and withdrawals includes: Visa, Qiwi wallet, master card, maestro, Neteller, Yandex Money, Fasapay, Webmoney,Skrill, and epayments.
Fasapay and Neteller are excellent options for traders based in India.
Customer Support
With highly responsive and experienced support, you can be sure to get answers to all your trading realted enquiries. Olymp Trade provide a lot of options to get in touch with them. Their support is available night and day, anytime 24/7, responding averagely 15seconds in 8 different languages.
Olymp Trade: Strategies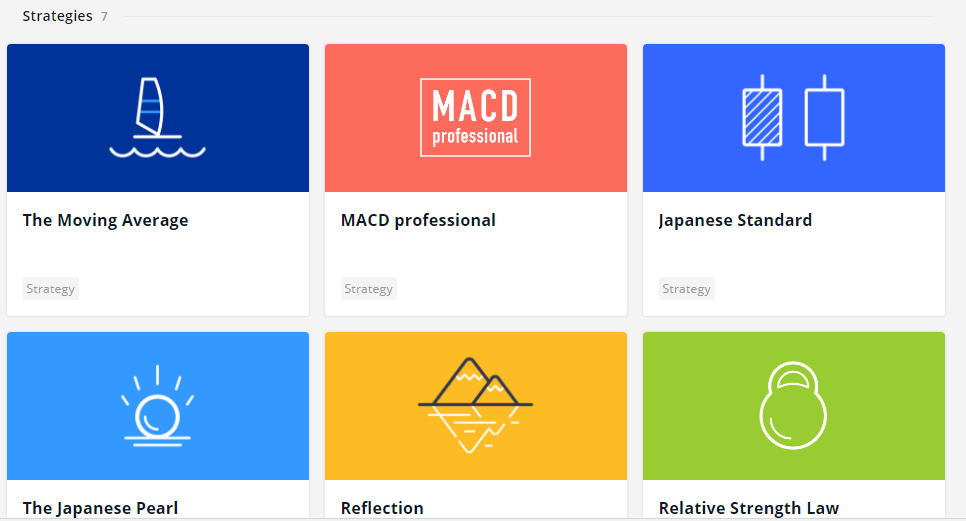 Olymp Trade: Indicators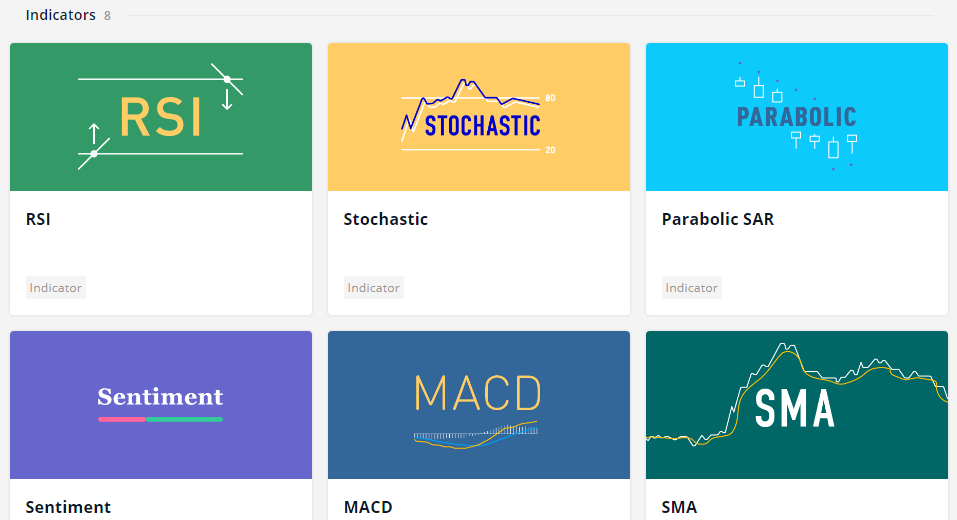 Olymp Trade: Free Webinars & Promotions

2 times a month are held webinars marathons for India.
This is roughly a free training schedule for traders with a prize draw and promotional codes ( bonuses ).
We publish here all upcoming webinars with promotional codes.
Olymp Trade Review: Summary
Olymp Trade is a fast growing online trading platform. According to their website, they have about 190748 users that carried out trades on live accounts just last month with approximately 31million closed trades within the same month. Since inception of the brokerage company, they have continued to bag awards within the years 2016 to 2017. These include fastest growing platform 2016, Best fixed time trading platform 2016, and Best Financial platform 2017, to mention a few.
Through honesty and a consistent offering of reliable services to clients, Olymp trade is honored with the status of a "category A platform" of the International Financial Commission. They offer insurance of $20,000 on each trade, click on this link for more information.
From all indications Olymp Trade is a online trading company I would recommend for my trader friends in India considering the wonderful experiences they give traders especially in the area of trader education, and huge free $10,000 demo account.  They offer great education in areas of strategy development, Useful technical Indicators and Webinars as shown in the images above.
Finally, I will encourage all would be subscribers to read the privacy policy and all the service agreements, in order to understand how to operate responsibly on any brokerage for that matter.