Bitcoin to USD ( BTCUSD ) Forecast & Weekly Analysis, September 7 2018
Bitcoin to USD Weekly Forecast & Analysis for Crypto Brokers
Introduction
This week has been another shocking one for HODLers in the crypto community, as their bullish optimism was dashed on the 5th by huge Shorting of the BTC! Similar to previous rallies that have been observed on the BTCUSD price charts, we held on to our long-term short bias while we went long on the short-term time frames with caution. Not too long into the week, the price plummets into a massive short selling, following a negative news on speculative adoption, which leads to a bearish engulfing price action pattern on the daily chart.
Crypto Adoption
From a survey recently conducted by YouGov Omnibus, a conclusion was reached that half of the American millennials are interested in cryptocurrencies. This survey was conducted on 1202 respondents between 29th to 30th of August. Of which over one-third of the respondents, say they would opt for cryptocurrencies, over the U.S. dollar. 
Still, on the poll, 79% of Americans have knowledge of at least one cryptocurrency, with Bitcoin leading with 71%, while Ethereum has 13%. As the current exchange rate of Bitcoin to USD plummets 15% of respondents wished they had bought earlier, and are of the opinion that it is too late to buy now.
Speculative Adoption
According to a CNBC news report,  Martin Chavez, Goldman Sachs Chief Financial Officer, said that the recent reports about the company boycotting an idea of opening a trading desk are fake news. Towards the end of December last year, there were rumours of the company establishing a crypto-focused unit by late 2018. Moving forward into 5th of September, a breaking news from Business Insider from some unknown source claimed Goldman, was scraping the crypto trading desk. This fake news leads to a huge nosedive in price across major cryptocurrencies, hence a drop in market capitalization of the BTC.
Regulatory Adoption
Based off a news report by Techcrunch "Robinhood", a Stock and cryptocurrency trading firm plan to launch an Initial Public Offering (IPO). Baiju Bhatt (Robinhood CEO) in an interview with TechCrunch said the company is in search for a Chief Finacial Officer, as they are being audited by the U.S SEC and FINRA to ensure regulatory compliance.
Blockchain Adoption
There's been a positive outlook on blockchain adoption this week as the Supreme Court of China made a ruling that evidence validated with blockchain technology holds in legal disputes. This is to take effect in China's Internet courts in the city of Hangzhou Zhejiang Province. The nation of China also has two other internet courts in Beijing, as well as Guangzhou.
Technical Analysis
The different timeframes of the Bitcoin to USD charts are in alignment, as they all head south following a false news/ rumour on the September 5th.
BTCUSD: Monthly Chart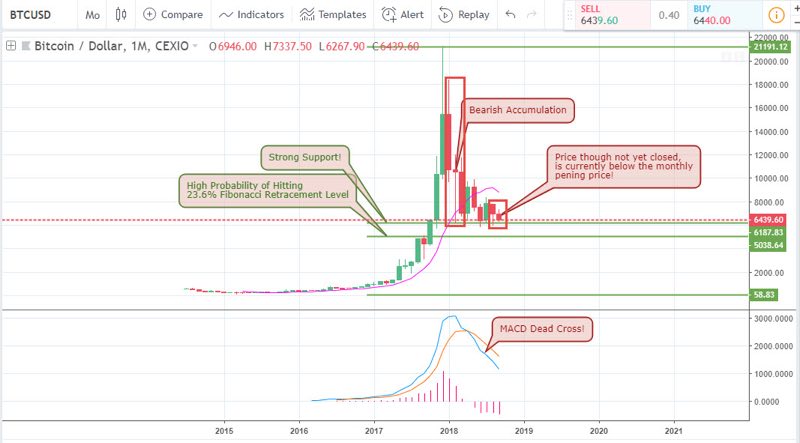 A couple of days ago from our last analysis this week, we observed that price still trades above the 6187.83 support level, and price traded above the monthly candle open which was indicative of lower timeframe activities by scalpers and intra-day traders and crypto brokers alike. We held a bearish bias on this time frame, despite the bullish outcome on the lower time frames! Price is still within a MACD dead cross and the bearish trend is still at play.
BTCUSD: Weekly Chart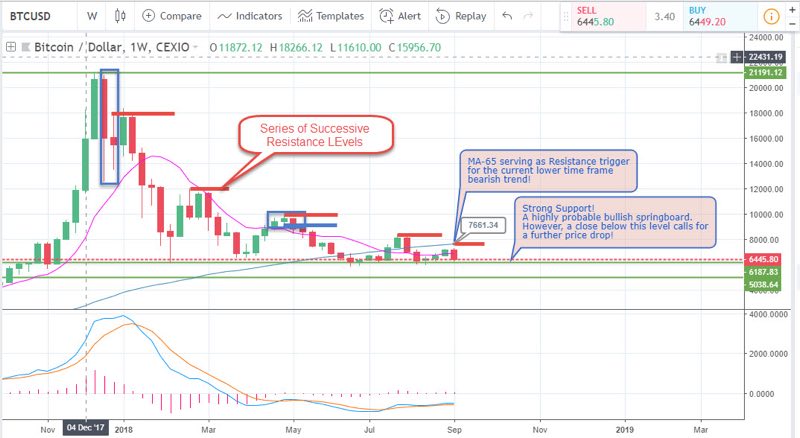 This time on the weekly time frame, we decide to point out the series of descending resistant levels in the long term bearish trend. This highlights the price we should be looking out for in the case of a bullish breakout. We consider a break above the 7661.64 as a resistance level suitable for a bullish breakout, meanwhile, this pair is heading south in the long term, in agreement with the monthly chart!
BTCUSD: Daily Chart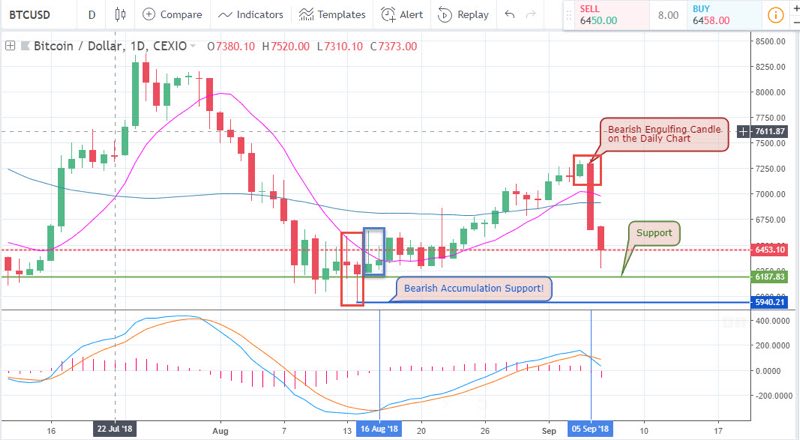 The bullish trend that started August 16th, failed to signal a huge bearish engulfing candle pattern as shown above on the daily chart. This triggers an instant sell order on the 6th of September at $6678.20 daily price open. As the week winds to a close, the 6187.83 support level offers support, slowing down the breakout momentum. Time will tell if this level can stand the test of time. We'll be on a lookout for breakout patterns that may be formed at this level as their results can be of high impact.
BTCUSD: 4-hour Chart
The 4-hourly chart above illustrates better how the failure pattern was formed. The bullish accumulation pattern formed at the latter end of August 4th failed to a long body bearish candle on the 5th, offering a better short selling entry signal at $6908.09. Fast forwarding to the 6th, the price established a bearish accumulation pattern which failed to bullish accumulation pattern towards the end of the day.
BTCUSD: 2-hour Chart
The 2hourly chart signals a bearish accumulation pattern early hours of August 5th, which further dipped into a huge bearish selling candle as shown above. Though the price action pattern is not much to hold on to on this time frame, it is worth noting that the pair trades under the 65-period moving average which indicates selling pressure.
Conclusion and Projection
As the week winds up to a close, price enters into a series of alternating bearish accumulation patterns. Carrying out a quick review on the 4-hourly chart, we'll observe that another breakout of bullish accumulation pattern is formed on the daily. This leads us to a conclusion that the pair has entered into a bearish trend in agreement with the longer time frames. We intend to hold on to this until a more convincing bullish setup gets triggered on the 4hr or daily time frames.
Top 3 Crypto Brokers to trade Bitcoin to USD