BTCUSD- Weekly Outlook & Analysis for 12th February 2021
BTCUSD Forecast & Technical Analysis for Forex
Introduction
India's new move to potentially ban cryptocurrencies and the parliament speeding up a crypto bill sends panic across the Indian crypto and India broker community.
Reports from CNBC-TV18 news outlets show that India's government may take a legislative approach towards the ban of cryptocurrencies while establishing a regulatory framework for a digital rupee RBI-Reserve Bank of India.
BTCUSD Technical Analysis
Monthly Chart
Monthly Resistance Levels: 48216.09, 42000.00
Monthly Support Levels: 28130.00, 23000.00
The BTCUSD exchange rate made it to the 42K  round-number resistance to later correct by -22%, forming a long candlestick wick, indicating that the bulls will later find their way back to that level and beyond.
Increasing demand for the number one crypto-asset soared as top companies look into having their balance sheet in Bitcoin.
Weekly Chart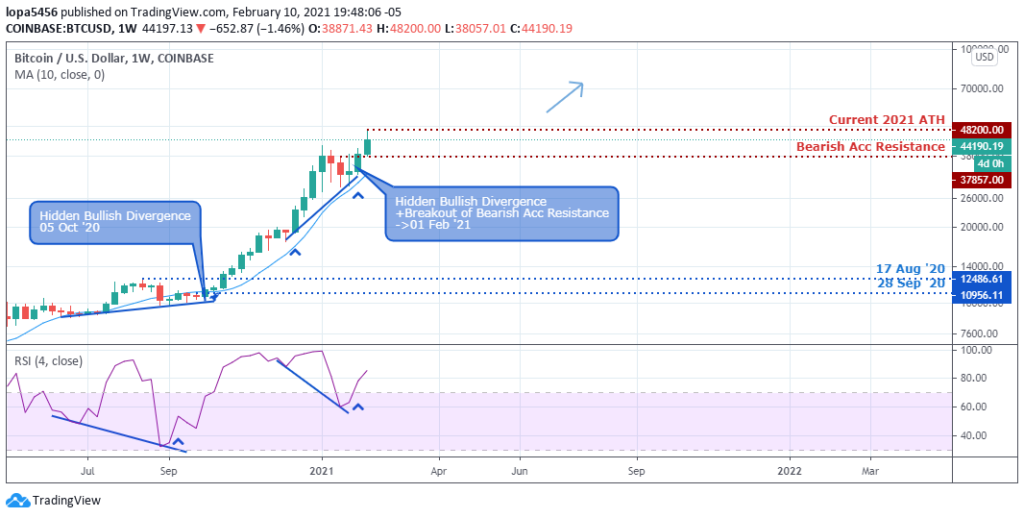 Weekly Resistance Levels: 48200.00, 
Weekly Support Levels:  37857.00, 28000.00
As anticipated, the relative strength index exiting the level-70 signaled a hidden bearish divergence structure, a popular price vs. oscillator structure that shows price continuation. 
On top of that, last week's Bitcoin price closed above the 37857.00 resistance to set the tone for this week's price surge was a good price action pattern.
The bulls should maintain their hold while keeping an eye on a possible build in regular bearish divergence for locking in profits.
Daily Chart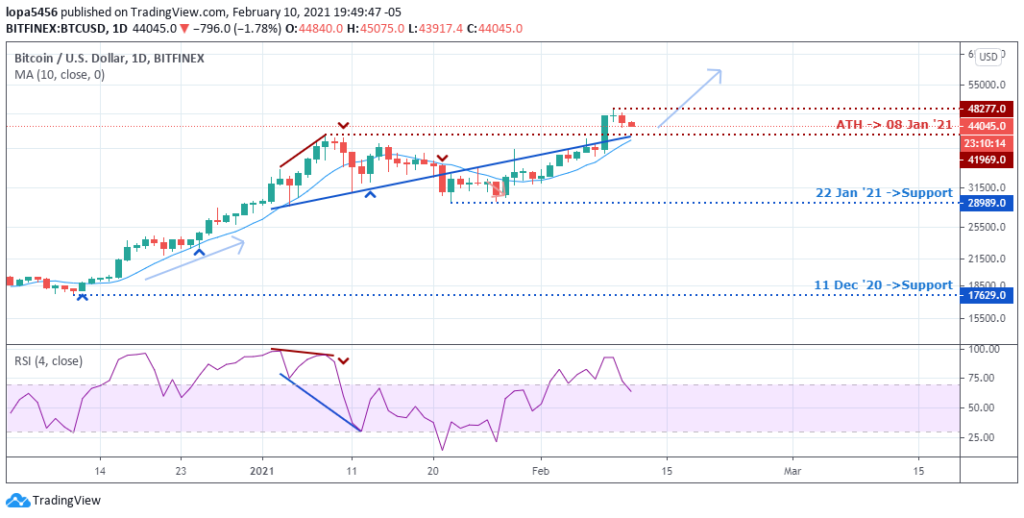 Daily Resistance Levels: 48277.00
Daily Support Levels: 41969.00, 28989.00
Slowly but surely, the Bitcoin price surged after inching above the MA-10 on 29 Jan '21 and finally closing above the 41969.00 resistance.
We expect the BTCUSD to find support within the MA-10 range, sending the price back to the upside.
Bullish Scenario:
Our last overview of the BTCUSD mentioned how the pair traded below the RSI level-70 on the weekly-TF was an indication to scale into the positive trend. 
Well, it played out as expected as whales resumed control of the BTC exchange rate over the announcement of the Tesla CEO acquiring 1.5 billion USD worth of BTC.
The upward campaign for BTC is still intact as bulls now eye the 50K USD round-number resistance.
Bearish Scenario:
For now, the bearish case for the BTCUSD will be at the intraday level, as Call Options strike prices even go as high as 60K per BTC, sucking the air out of short-sellers.
Also, let's not ignore a buildup of regular bearish divergence on the weekly-TF, which may lead to a short term slowing of the upward momentum. It can be useful for timing profit exit points for bulls to buy at a correction level.
Bitcoin BTC News Events
The cryptocurrency market entered a new wave of volatility following an investment of 1.5 billion USD by Tesla CEO Elon Musk.
The flagship crypto-asset has gained over 1000% since the start of the pandemic in March '20. 
At this point, analysts project a 100K USD BTC is just around the corner.
Again, on Wednesday, MA MasterCard Inc is making plans to support some crypto-assets on its network, following some other big firms' steps.
MasterCard's announcement came after the Tesla and Space X CEO revealed his purchase of 1.5 billion USD purchase and would soon accept Bitcoin as a payment mode for Tesla cars.
Other supporters of Bitcoin BTC includes payment companies like PYPL-PayPal, SQ-Square, and asset manager BLK-BlackRock.
However, MasterCard customers can now transact using cryptocurrencies without going through its network at the time of this report.
Merchants and shoppers will have access to new possibilities as merchants can gain new customers already in leveraging off crypto-assets and the DeFi space.
According to an anonymous client's report, thousands of crypto mining devices are imported by Russia in the face of a huge surge in the cryptocurrency market.
Claims by a BitRiver Senior Exec states that a local client received over 20K crypto mining machines.
Igor Runets, CEO of BitRiver, also said that the mining hardware's total mining power adds up to 70MWh, estimated as the largest single batch of such mining machines in Russia.
Conclusion and Projection
As more institutional investors flock into the crypto space, with Bitcoin BTC as a passageway, we expect the price surge to continue as our hypothesis of a fresh impulse wave similar to 2017 becomes more transparent. 
Not forgetting that a prolonged lockdown from the COVID-19 pandemic will increase trading activities as more people can now do so on their desktop and mobile devices.