BTCUSD Weekly Outlook and Bitcoin Fundamentals, 17th February 2021
BTCUSD Forecast and Fundamentals for Bitcoin
Introduction
Bitcoin BTC later recovered from a sharp slump that started at the early hours of 15 Feb, '21, to trade at 4780.18USD, a little below the 49,714.66USD, as the USD continues to hover near its 2-week low on India forex trading brokers.
According to Balaji Srinivasan, a former Coinbase chief technology officer, India's impending move to ban Bitcoin and other crypto-asset can be likened to a ban on the financial internet.
The former Coinbase CEO believes that India's impending ban on cryptos could mean the country would miss out on trillions of USD in possible profits.
BTCUSD Technical Analysis
Monthly Chart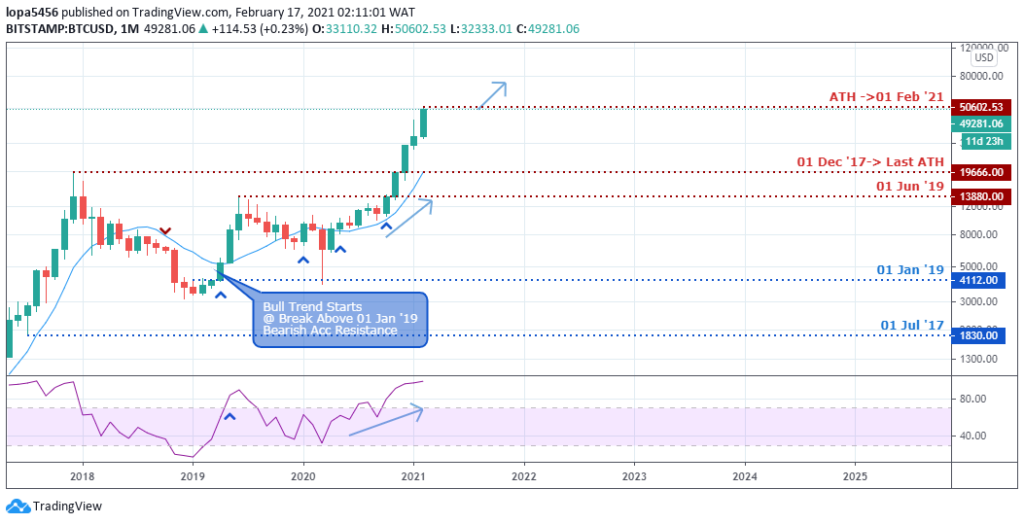 Monthly Resistance Levels: 50602.53
Monthly Support Levels: 28130.00
Timing the precise reversal point in a bull market can be tricky. As a result, we'd suggested trailing our position as the uptrend continues.
The above monthly chart shows the current bullish market cycle starting after the RSI entered the overbought area on 01 Jan '19.
Since then, the price has not entered the oversold area, which confirms that we're still in a bullish trend.
Weekly Chart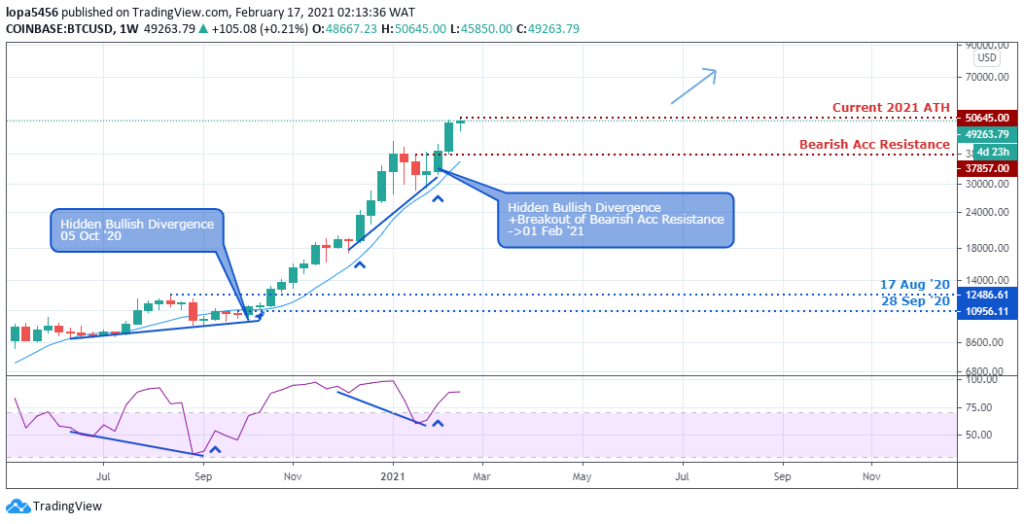 Weekly Resistance Levels: 50645.00 
Weekly Support Levels:  37857.00
The BTC price breached the bearish-Acc threshold and is now set to resume its bullish expedition.
A clear impulse wave is increasing in strength every day, and we may see the BTCUSD attain the 100K mark on or before Q2 '21.
However, we should be mindful of an impending regular bearish divergence that could confirm the bulls' profit-taking levels.
Daily Chart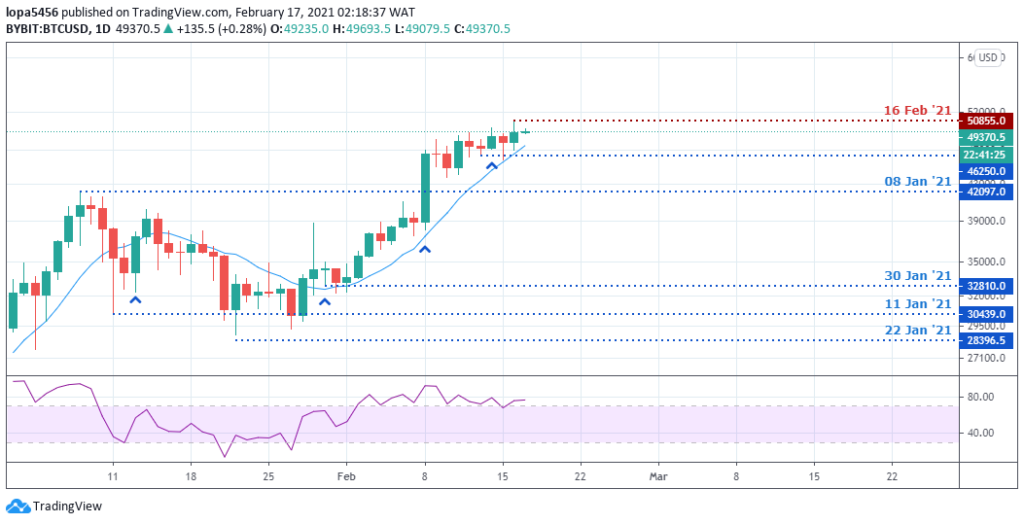 Daily Resistance Levels: 50855.00
Daily Support Levels: 46250.00
A rising triangle chart formation is slowly growing on the daily-TF, and we may soon experience an explosive move in the Bitcoin BTC price that's similar to that of December '20.
Bullish Scenario:
With the BTC price around the 50K round-number level, we'll want to lock in some profits as the price is expected to correct once more before heading north.
When asked about the right time to sell Bitcoin, Michael Saylor, a BTC HODLer and evangelist, said until a better alternative shows up. He likened the question to ask when we should stop using the internet.
Bearish Scenario:
The bears are getting smothered at the intraday level as the flagship crypto-asset continues to dominate the crypto/blockchain ecosystem.
A buildup of bearish divergence on the weekly-TF may force whales to liquidate their profits around the 50K mark and bring the BTC price lower before finally taking it higher.
Bitcoin BTC News Events
In a closed interview with Bloomberg, a senior Finance Ministry official who chose to be anonymous commented on a high likelihood of the upcoming ban. 
He also mentioned those holders of cryptos would have to convert their funds back to legal tender within a time window of three to six months.
Institutional investors hold up about 3% of BTC – Bitcoin in circulation.
In a recent data release, 24 institutions have acquired over 460500 BTC, which equals 22 billion USD at the current BTC exchange rate.
According to Galaxy Investment Partners CEO Michael Novogratz, a BTC supply shortage will increase if institutions keep up with their current buying rate. It does not include the BTC (up to 3million BTC) forever lost.
Below is a list of institutions currently holding BTC.
Block. one holds approximately 140000BTC (about 6.5 billion USD).
MicroStrategy holds roughly 71000 BTC (3.3 Billion USD).
MtGox KK holds about 141690 (6.6 billion USD).
Tesla recently holds 38500 BTC (1.8 billion USD).
Conclusion and Projection
As the NYDIG – New York Digital Investment Group pushes for more institutional adoption by filing paperwork for a US-based Bitcoin BTC ETF, we project a steady increase in the BTCUSD exchange rate into the end of the first quarter '21.
US-based crypto traders wait earnestly for the 1.9 trillion USD COVID-19 stimulus package, as we can already guess where a significant portion of the funds is headed.