BTCUSD Weekly Outlook and Bitcoin Fundamentals , 23rd December 2020
BTCUSD Forecast and Fundamentals for Bitcoin
Introduction
At the Options market, traders are already pricing a Bitcoin price increase to $36K and $50K, a confirmation that a substantial number of OlympTrade traders OlympTrade traders are optimistic of a bull run in Q1 2021. Bitcoin BTC already trades at a new all-time high above $24K on India broker terminals.
Here, we take a peek at the news events and significant price levels surrounding Bitcoin.
BTCUSD Technical Analysis
Monthly Chart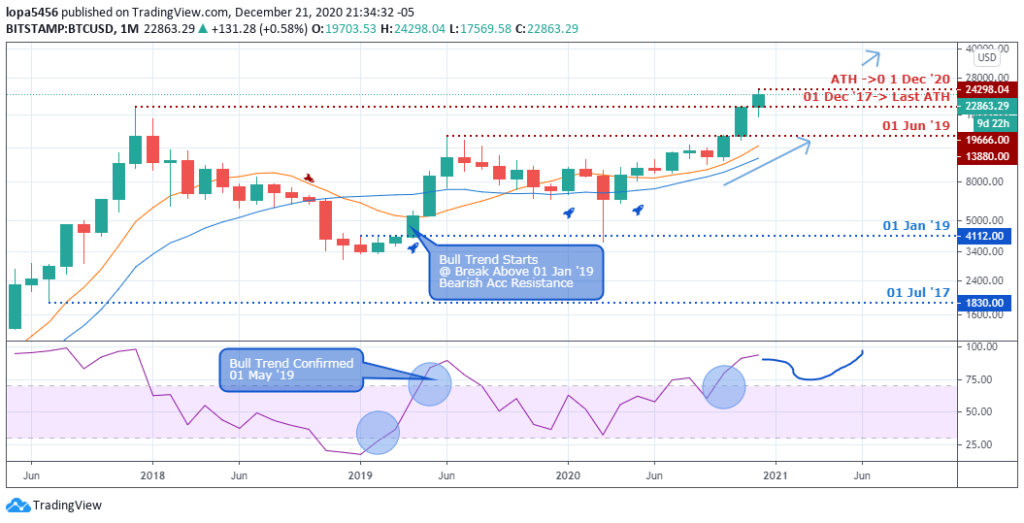 Monthly Resistance Levels: 19666.00, 24298.04
Monthly Support Levels: 13880.00
Bullish momentum persists on the monthly-TF of the BTCUSD after the Bitcoin price closed over the significant $13880.00 resistance level and entered the overbought area of the relative strength index oscillator.
The move confirms a continuation of a bullish global view of the BTCUSD, following the ABC corrective Elliot wave pattern.
Weekly Chart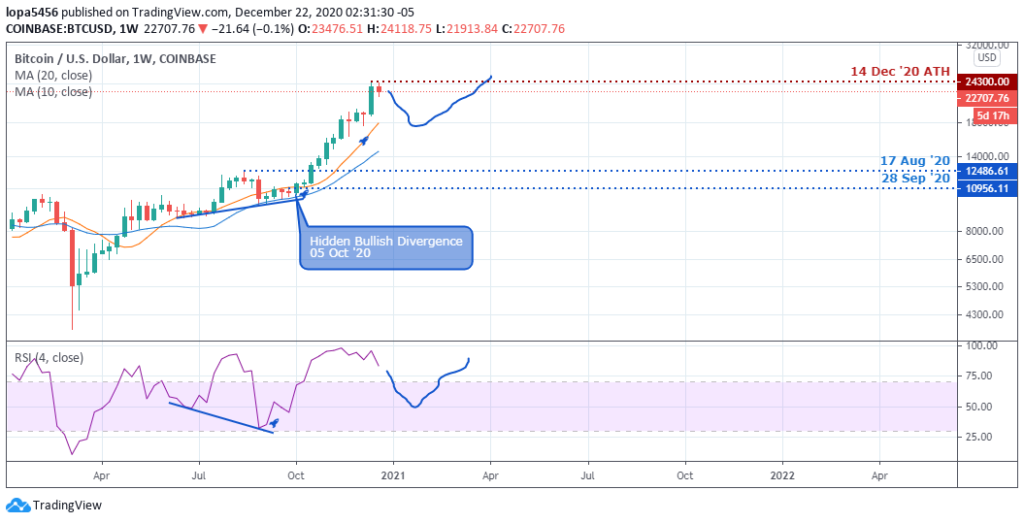 Weekly Resistance Levels: 24300.00
Weekly Support Levels: 12486.61, 14000.00
The Bitcoin price may have found resistance at the $24300.00 mark, considering that it started the week on Sunday with about -8% slump in the exchange rate.
Although there is no clear signal for a price correction at the moment, we suggest that traders may be taking profits around these new peaks, so don't get sucked into a bull trap by buying at the rise, as the price may correct without any crucial warning.
With the UK under lockdown from a new wave of Covid-19 pandemic and speculations on a US stimulus package, we expect an increase in volatility for digital assets like Bitcoin.
Daily Chart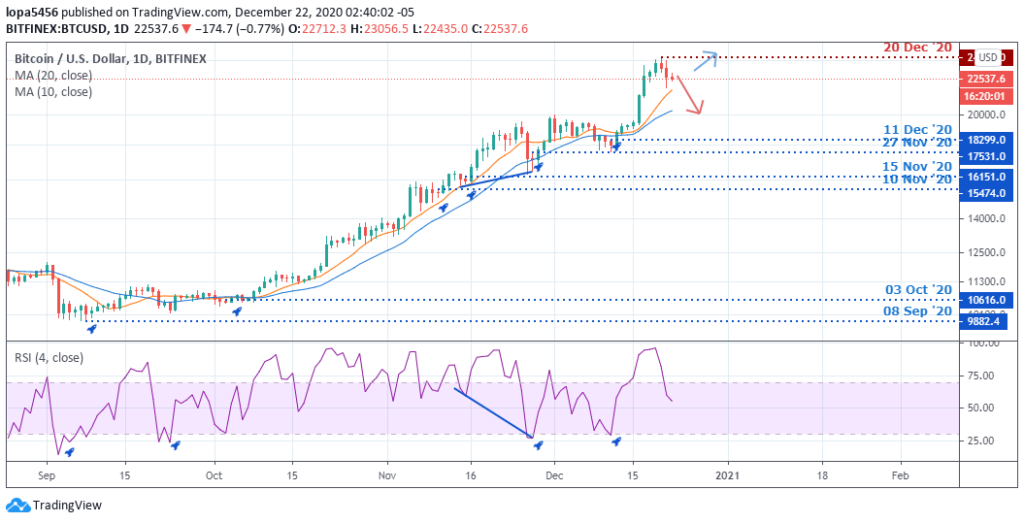 Daily Resistance Levels: 24300.00
Daily Support Levels: 18299.00, 17531.0, 16151.0, 15474.0
After a series of eight bullish closing candlestick patterns, the up move ended by signaling an exhausted bullish-accumulation setup, leading to a quick price correction.
Bullish Scenario:
We anticipate a further price decline below the RSI overbought area as a signal to scale into the upward trend.
Bearish Scenario:
The recent price correction on the daily time frame is considered a short term profit taking level for Bitcoin bulls. We do not anticipate it to continue for long, considering that the set up was a daily-TF setup.
We lookout for a similar setup on the weekly time frame in the coming weeks. Only then do we look out for an instead prolonged price correction.
Bitcoin BTC News Events
Coin Corner CEO Danny Scott believes a Bitcoin liquidity crisis is imminent, highlighting a Bitcoin shortage on exchanges, following increasing institutional investor confidence in the crypto asset.
Coinbase is in the news, as the leading US-based crypto exchange sends a registration draft for its IPO to the SEC.
Messari, a research company, projects that Coinbase could be valued at $28 billion compared to the $8 billion valuations at the October 2018 funding round, should the IPO pull through.
There are speculations of Coinbase approaching Goldman Sachs to manage its IPO, although this is yet to be confirmed.
The US Treasury has recently proposed to monitor cryptocurrency that's channeled to self-hosted wallets. 
The proposed rules highlight that exchanges would have to carry out KYC procedures on customers with identity verification as a significant part.
Stakeholders have been given 15days to reply with comments, and Brian Armstrong of Coinbase was one of the first to show reservations on the plan.
However, many lawmakers have shown their opposition to the proposal, which may be considered an attack on peer-to-peer transactions.
US crypto users are left in a confused state following the wordings on digital currency focused questions above the tax return form (Form 1040).
The question asked if the user had sold, sent, or exchanged any form of financial benefit in virtual currency.
The question from the viewpoint of a crypto tax expert is a perjury trap.
This week, a big one for Bitcoin is the Puerto Rico Digital Bank getting approval from local regulators to offer Bitcoin BTC and Ethereum ETH custody to retail and institutional investors.
FV Bank has been given the go-ahead to render custody services for BTC and ETH. Integration of this new service is projected to commence around Q1 and Q2 2021.
Another big one in the news this week is Ledger's breach of customers' personal information.
Ledger, a France based cryptocurrency hardware provider, being the largest among crypto hardware wallet firms, reported a breach in the company's e-commerce database. 
The database held customers' details, such as first and last names, email addresses, phone numbers, and home addresses.
Haven reported the violation in July 2020, the extent of the damage was not felt till hackers recently published thousands of user details from the breach.
Reports confirmed that Ledger had allowed an unknown marketing company access to its eCommerce and marketing database via a misconfigured API.
According to Ledger, the data violation was discovered on July 14 through a bug bounty program.
The company says this API has been deactivated ever since and no longer accessible. However, users holding cryptocurrencies on Ledger now suffer threats via email and other communication channels.
Lastly, Facebook, Amazon, Netflix, and Google stocks can now be traded on DeFi (Decentralized Finance).
Backed by Binance, Injective layer2 Decentralized Exchange now launches stock trading with Amazon, Facebook, Google, and Netflix, being the first and more traditional equities to come later.
Conclusion and Projection
The bulls should hold their own as the Bitcoin price continues to trade in the overbought zone on the BTCUSD weekly and monthly time horizon. 
A price slump from this level on a weekly time frame would lead to panic selling. However, traders who have been in the Bitcoin market for a long time know that it will be an opportunity to scale in the up direction in the long term.