Bitcoin to USD ( BTC/USD ) Weekly Outlook , June 8 2019
BTC/USD Forecast and Technical Analysis & Fundamentals for Cryptocurrency
Introduction
Major Forex broker platforms like Binomo and Olymp Trade, now offer cryptocurrency and BTC/USD trading to their new and old clients, considering the highly volatile nature of the market and also a fact that traders crave for volatility.
BTC/USD Weekly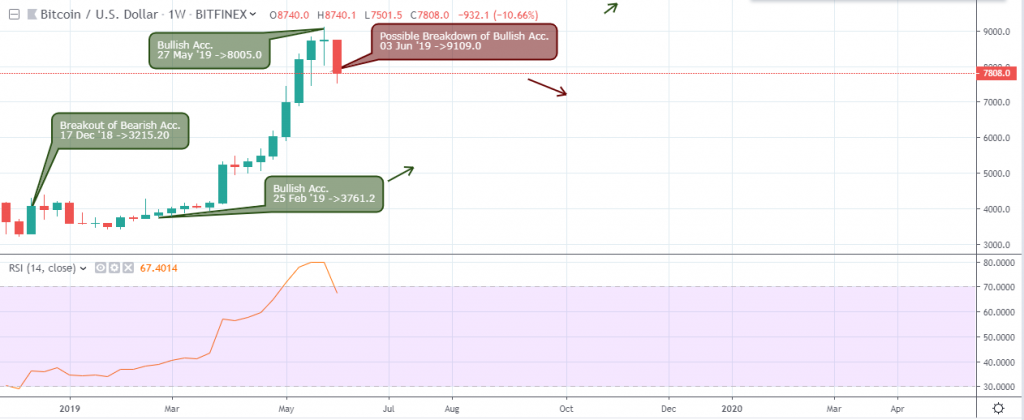 Following an increase in institutional, and speculative demand for Bitcoin (BTC), the price increased by 123.78%, while staying in overbought territory. 
An increase in demand signaled as bullish accumulation support (8005.0)  in the overbought zone was threatened by selling pressure from triggered take profit levels of buyers during the week.
If the Bitcoin price closes below this critical support level, then we might see a correction of the bullish gains.
Technical Analysis
BTCUSD: Daily Chart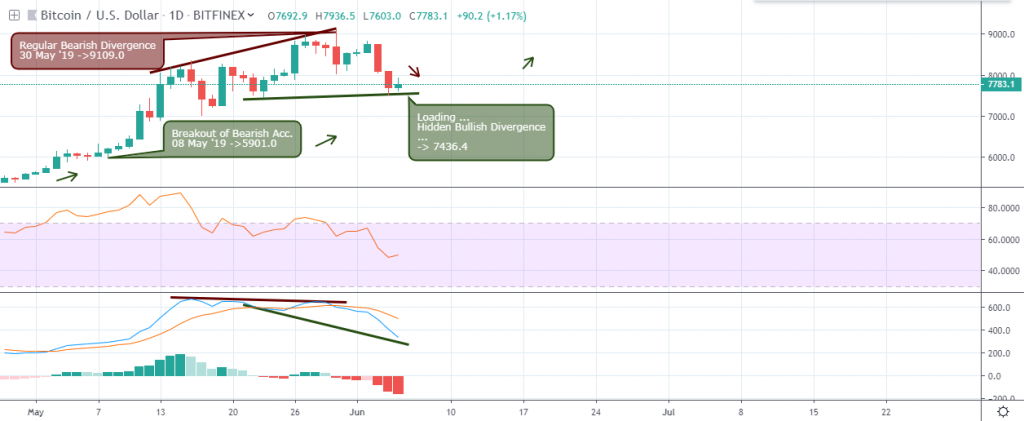 During the week, we anticipated a hidden bullish divergence setup after which the MACD made a lower low compared to a higher low of the Bitcoin price on major bitcoin broker platforms.
The pair trades within an expanding bullish channel formed from both bearish and bullish divergence patterns.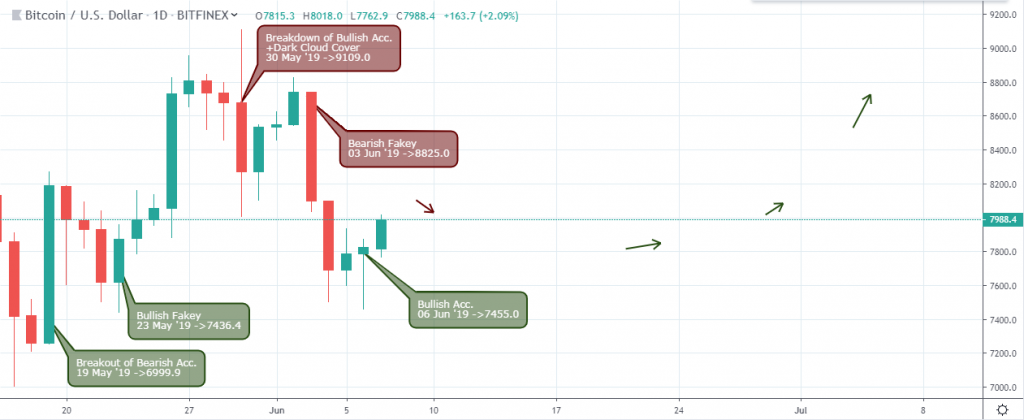 Towards the end of the week, precisely on May 06, our anticipated hidden bullish divergence setup was confirmed by a bullish accumulation pattern which sets up support at 7455.0. The pair looks set for a rally from this point.
BTCUSD: 1Hour Chart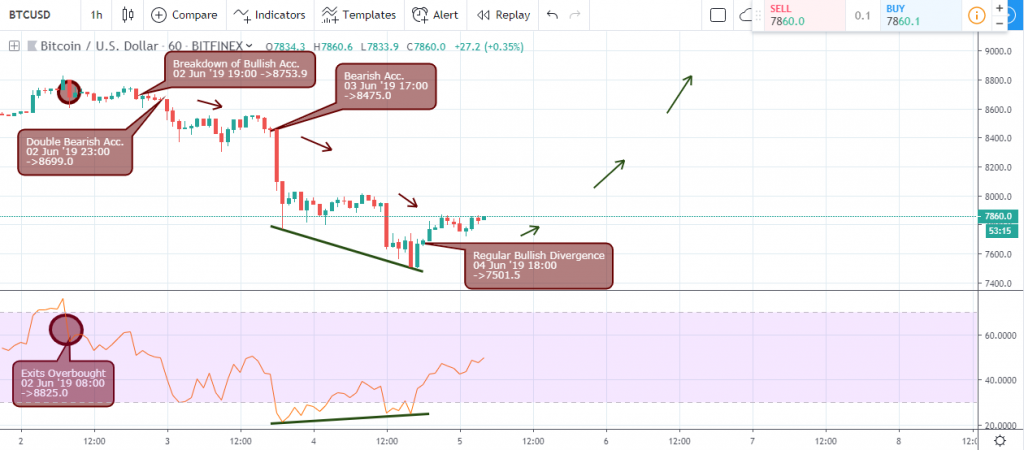 Let's go down to the intraday 1hour chart, where the bitcoin price exits overbought on June 02 "19 08:00 as shown by a cross below the RSI level-70, leading to about 13.9% decline in the price of the BTC.
An end to the bearish trend was signaled on Jun 04 "19 18:00 in the form of a regular bullish divergence. This may be the butterfly effect that's needed for a bullish rally.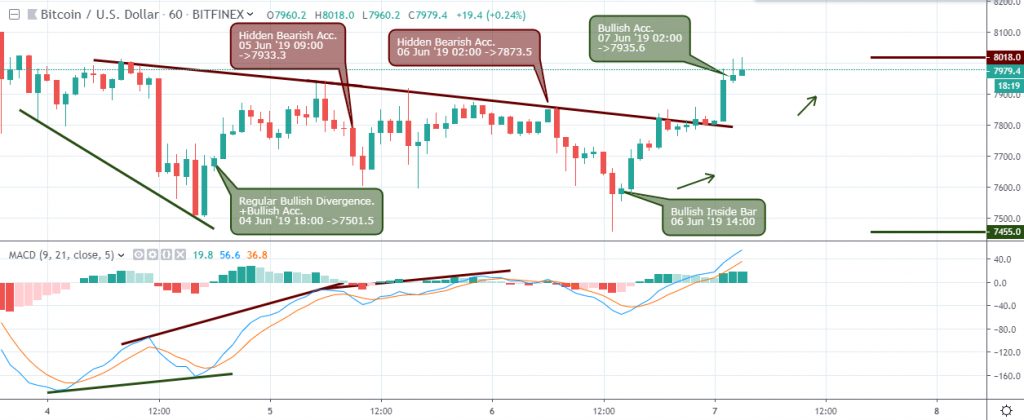 The regular bullish divergence was opposed by hidden bearish divergence setups on June 05 and 06, forcing the pair to trade within an expanding bearish channel.
A sudden break out of the upper resistance trend line formed from the hidden bearish divergence was initialized from a price close above the bullish inside bar's high after setting up support at 7455.0.
Bitcoin Fundamentals
Japanese Tax Agency to request User Revenue data from crypto exchanges
In a report by a local Japanese newspaper, Asahi Shimbun, individual and Institutional entities have not declared their gains in cryptocurrencies of about 10 billion Yen from the earlier years till March '19. 
Based on the report, about 50 individuals and 30 crypto-based businesses so far did not declare their revenue because of high taxation on these types of income.
Crypto-based revenues are considered as miscellaneous income by tax regulators in Japan.
To curb tax evasion, the government of Japan requires cryptocurrency exchanges to deliver revenue information to the National Tax Agency.
The move is expected to take effect in April 2020. Data will be requested from users whose earnings are over 10 million Yen.
Conclusion and Projection
Hidden divergence patterns are excellent indicators of trend indicators. With one set on the daily time frame, we look forward to a continuation of the bullish campaign and the $10,000 mark as the next target.