USDINR – Weekly Outlook for Indian Rupee February 28 2018
USDINR : Weekly Technical Analysis for Indian Forex Brokers
Introduction
Among currencies paired against the US dollar, the Indian Rupee is one that shows strength as all attempts by the bulls to redeem their image collapsed to bearish pressure. Read on as we look at major technical and fundamental events dictating the direction of the USDINR.
India's Fundamentals

 
FX Reserves, in USD
This week Friday, 1st March'19, the Reserve Bank of India will be releasing the figures for the FX Reserves, showing overall Central Bank transactions of FX, which covers transactions with international institutions.
A high value is viewed as positive for the Rupee, while a low reading is viewed as bearish for the Indian Rupee, as the previous reading was $398.27B.
Bank Loan Growth
The Reserve Bank of India will again release the Bank loan readings on March 01 '19, as a measure of the lending by domestic financial institutions. 
A higher reading is viewed as a bullish signal for the Indian Rupee, while a low reading is a weakness for the Rupee.
US Fundamentals

 
Consumer Sentiment Index – Michigan
On March 01 '19, the University of Michigan will be publishing its consumer sentiment Index, which is a survey of individual consumer view of economic pursuits. It reflects a picture of consumers likely to spend money. Higher interpretations register a bullish USD while lower readings show bearish sentiment towards the USD.
Technical Analysis
USDINR: Monthly Chart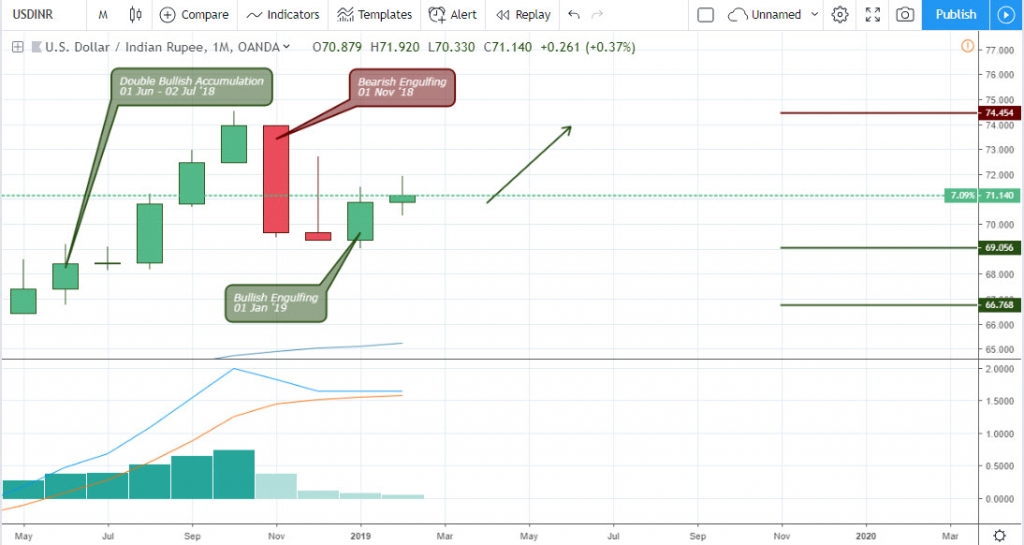 Early January last year, the Indian Rupee started losing its gains as the USD shows strength. This started from a bullish engulfing candle pattern after the close of January. As shown above, the previous bearish closing candle on November last year was not sufficient for an MACD dead cross. Therefore, the pair still shows bullish sentiment.
USDINR: Weekly Chart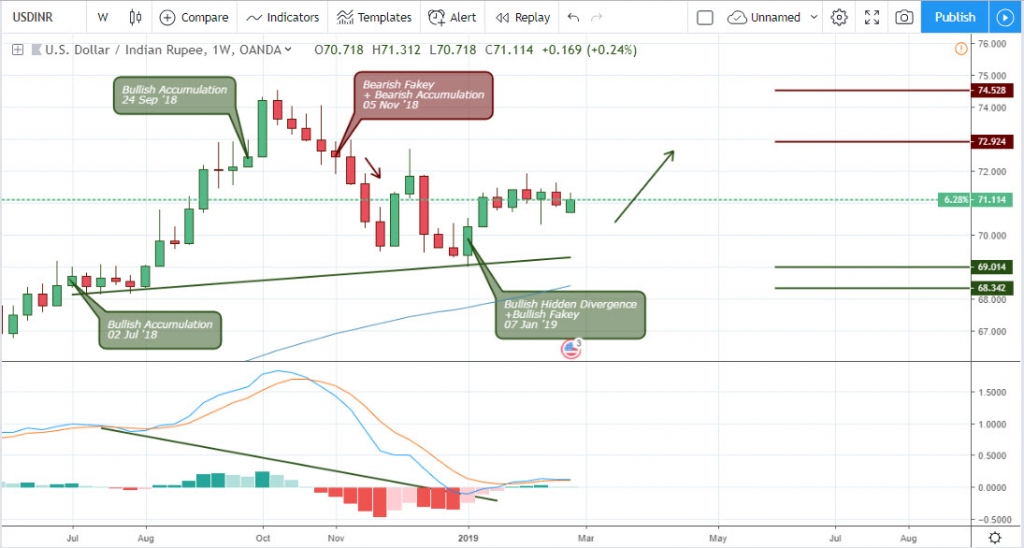 Looking at the above weekly chart, you will agree with me that the strength gained by the Indian Rupee is currently tested as the exchange rates of the USD to INR trades within the MA-65 zone. 
This price retracement was signaled on 7 January '19 as a bullish fakey pattern giving early confirmation into a hidden bullish divergence.
USDINR Daily Chart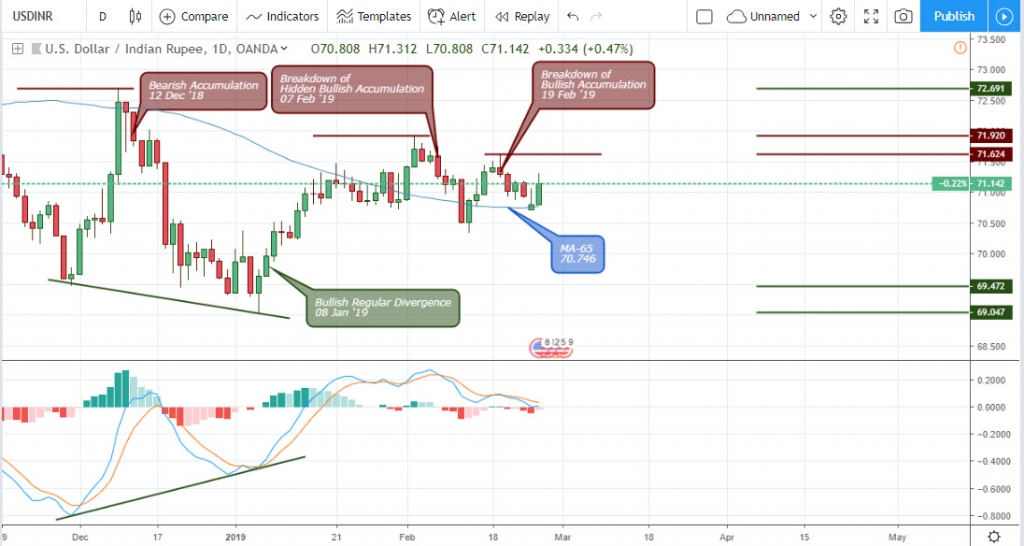 Coming closer to the lower time frames, you'll notice the bullish regular divergence pattern triggered on 08 January '19. This pattern was signaled after a price slump triggered by a bearish accumulation with the MA-65 resistance zone.
The bullish divergence forced the price to climb up by 2.74%, after the MACD golden cross on January 08 '19.
Although the pair currently trades above a 65-day moving average, bullish price patterns are beginning to fail to a price collapse. Starting from a failure of hidden bullish accumulation on 07 February '19 and a failure of bullish pressure on 19 February '19.
USDINR 4-Hour (H4) Chart
Great for swing trading is the 4hour chart, as it shows timely bullish or bearish rejection patterns. These patterns as illustrated above can be seen on 01 February '19 02:00, all the way to 26 February '19 02:00. These alternating high and low swings leave critical resistance and support levels in their path at 71.92, 71.752, 71.624, 71.244, 70.792, and 70.330 respectively. 
USDINR 2-Hour (H2) Chart
The above 2hour chart shows a regular bearish divergence pattern on 19 February '19. Moving further away from the bearish divergence, an increase in bearish pressure was initialized on 20 February '19 leading to a 0.45% price decline. 
An opposite bullish divergence pattern confirmed on 25 February '19 02:00 brought an end to the bearish trend.
Conclusion and Projection
Although it appears the US dollar is making a comeback from the higher monthly and weekly time frames, the lower time frames show bearish sentiment in favor of the Indian Rupee. 
Looking at an update to the 2hour time frame below, you can clearly visualize timely bearish entry signals. 
With that said, you might want to visit our Indian forex brokers section for a list of regulated and handpicked brokers for you to take advantage of the up and down trends of the USDINR.